Updated: Timely health information is only a text message away through AZHEALTHTXT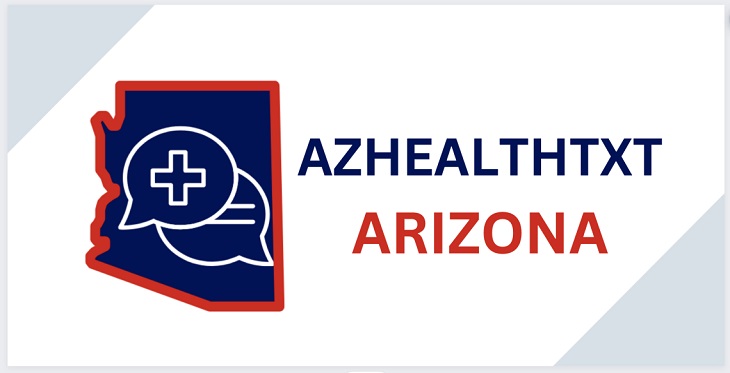 The University of Arizona Center for Rural Health's AZHEALTHTXT service is a bilingual information-sharing platform that disseminates timely, expert-curated, health information tailored to the unique needs of Arizonans via text messaging.
How to subscribe to AZHEALTHTXT:
From a mobile device with an associated wireless communications service that supports Short Message Service (SMS) text messaging, text "JOIN" or "UNIRSE" to 833-937-2974 to subscribe to AZHEALTHTXT messages. 
Next, you will be asked to complete a brief intake survey via a standard web browser (Internet access required). Your survey responses are used to ensure future AZHEALTHTXT content is tailored to your needs and interests.
After completing the survey, you will begin to receive timely health information via text messages and will have opportunities to provide feedback on programmatic features and content.
Please note that message and data rates may apply for any information sent to you from AZHEALTHTXT and to AZHEALTHTXT from you. Please consult with your wireless provider for information on messaging and mobile data costs associated with your wireless communications service.
The AZHEALTHTXT team is comprised of staff, faculty, and students across multiple University of Arizona disciplines (i.e., communications, public health, linguistics, computer science). In AZHEALTHTXT, our mission is to foster resilience within rural communities across Arizona in response to the key challenges identified during the COVID-19 pandemic in delivering robust health information. We are addressing these , which we aim to achieve through three key objectives:
Share timely and relevant health information
Improve knowledge of available resources, and
Prepare at-risk communities for emergencies
Our New Objectives
To achieve our goals, we work with community and university stakeholders through content advisory committees, community advisory boards and partnerships to build trust and ensure that the content we disseminate is relevant, accurate and up to date. We support targeted messaging on pressing, locally relevant health topics via text message, website articles, social media and more. We also aggregate and synthesize information to produce novel, relevant content for users through natural language processing, machine learning, artificial intelligence, and data scraping techniques.

See two examples of recent content we have published below: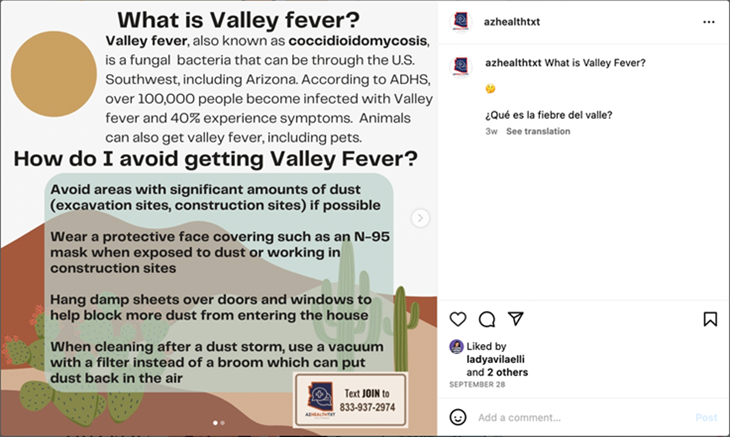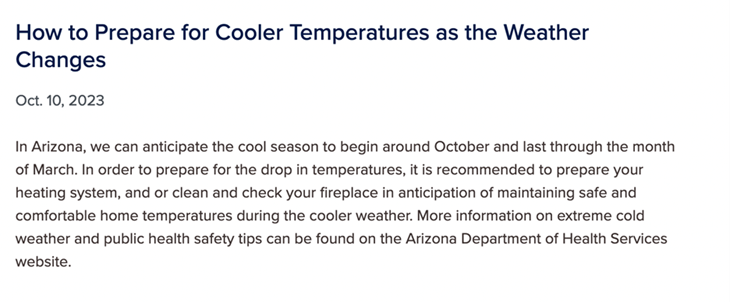 Community Needs Assessment
We conducted community needs assessments to ensure we are serving our target populations most effectively and efficiently. Through this process, we gathered data about what kind of information we should disseminate to our communities and specific feedback about how we can better tailor our program tasks to better meet the needs of our communities. We increased the network for AZHEALTHTXT around the state during decision-maker meetings. This network may be used to expand our community advisory board to help guide our project activities in the years to come. 
The AZHEALTHTXT project's community needs assessment revealed that the two most prominent needs statewide are related to mental health and substance use. According to our focus groups and interviews, we additionally discovered that access to resources and care are a great need for rural Arizonans. Our focus groups suggested that up-to-date, consistent, reliable messaging regarding access to resources and healthcare-related issues would be useful in rural Arizona and that our project is feasible in their communities especially since texting is a commonly used mode of communication and more easily navigated than other more complicated technological applications.
Upcoming Webinar and Workshop
We have two exciting upcoming events which will help showcase what we do and how we do it. "Two case Studies: The role of generative artificial intelligence in Rural Arizonan Health," a webinar on artificial intelligence, will take place on Zoom Wednesday, Nov. 1 at 12 p.m., Arizona time. Register here.
The second event is a Resilience Informatics workshop on Monday, Nov. 20 from 9:30 a.m. to 5 p.m. This workshop will bring together university, local community, state, and national stakeholders to:
Define the scope of a new emerging field of resilience informatics, and
Determine how we can harness the power of informatics to increase resilience, particularly in response to climate related disasters.
We hope to see you at one of these events. Please reach out for more information about what we do and how we can help serve you and your community by sharing resources or information related to health and community resilience via our networks (for free!). Email Maiya Block Ngaybe at mgblock@arizona.edu for more information.