About Us

In 1995, Arizona State Representative Robert "Bob" Burns (later, Senator and now, Arizona Corporation Commissioner Burns) worked with legislative staffer John Lee to develop the Arizona Telemedicine Program model (ATP). Telemedicine is the use of telecommunications technology to provide training for healthcare providers and specialist consults to providers and patients who are located in areas that do not have that level of service available. The University of Arizona College of Medicine was directed to establish a pilot telemedicine program with eight sites to serve the Arizona prison system and rural underserved communities. The U of A recruited Dr. Ronald S. Weinstein, an international expert on telemedicine, to be director of the new Arizona state-wide program.
Commissioner Burns and Dr. Weinstein have partnered in developing and managing the ATP since its inception.
The Arizona Telemedicine Program is a large, multidisciplinary, university-based program that provides telemedicine services, distance learning, informatics training, and telemedicine technology assessment capabilities to communities throughout Arizona, the sixth largest state in the United States, in square miles. The program has succeeded in creating partnerships among a wide variety of not-for-profit and profit healthcare organizations, and has created new interagency relationships within the state government. Functioning as a "virtual corporation," the Arizona Telemedicine Program is creating new paradigms for healthcare delivery over the information superhighway. The program is recognized as one of the premier programs at the University of Arizona College of Medicine, and has received numerous awards at the national level for its research and innovations.
A major contributing factor to the success of the Arizona Telemedicine Program is its strong commitment to research, and its track record in technology transfer. In 1973, the Department of Radiology at the College of Medicine formed a Digital Imaging Group which has been exceptionally productive over the years, and remains a recognized program in the field. The research group includes physicians as well as Ph.D.s in computer sciences and electrical engineering, cognitive psychology, and optical sciences. In 1990, Dr. Ronald S. Weinstein, a pioneer in the field of robotic telemedicine, was recruited to the University of Arizona and initiated collaboration with the radiology team.
Dr. Weinstein has had a career-long interest in telemedicine. He trained at the Massachusetts General Hospital and Harvard at the time that the first multi-service telemedicine program was established between Logan Airport and the Massachusetts General Hospital in Boston. In 1986, Dr. Weinstein invented robotic telepathology for which he holds US Patents. His Telepathology Research Laboratory at Rush Medical College, in Chicago, where he was Department Head for 15 years prior to coming to Arizona, carried out pioneering research on the diagnostic accuracy of telepathology, developed the first robotic telemedicine application, and designed the first commercial robotic telepathology system. In 1992, Dr. Weinstein established the Arizona International Telemedicine Network which provided telepathology consultations in Mexico and China. His work was widely acknowledged and, in 1993, Dr. Weinstein was invited to give the opening lecture at the First International Conference on Clinical Applications of Telemedicine, in Tromso, Norway. The Dean of the Arizona College of Medicine, Dr. James E. Dalen, gave a lecture on "Rural Healthcare" at the same meeting. Thus, there was significant interest in telemedicine in Arizona prior to the establishment of the Arizona Telemedicine Program.
In 1996, the Legislature of the State of Arizona funded the Arizona Telemedicine Program and mandated that it provide telemedicine services to a broad range of healthcare service users including geographically isolated communities, Indian tribes, and Department of Corrections rural prisons. Leveraging the state startup funds, the Arizona Telemedicine Program succeeded in obtaining additional funding and support from many healthcare systems, state agencies, federal grant programs, and third party payors.
This year, 500 hours of continuing medical education and continuing education will be delivered to thirty-four communities using bi-direction video conferencing. The Arizona Telemedicine Program has created two additional statewide programs, Project Nightingale and e-Healthcare Arizona. Project Nightingale, created by Dr. Weinstein, is a unique, dedicated broadband healthcare infrastructure which functions as a telecommunications collaborative providing access to T-1/ATM telecommunications on a private network throughout the state on a cost-sharing basis. e-Healthcare Arizona provides state agencies with a vehicle for collaborating on various programs in disease prevention, public education, correctional telemedicine and, more recently, children's healthcare and home health nursing. In addition, the Arizona Telemedicine Program has recently instituted innovative programs in home health care for patients with artificial hearts awaiting transplantation, patients requiring ostomy home-nursing services, and children in need of occupational and physical therapy. Telenursing services are being implemented in Phoenix schools.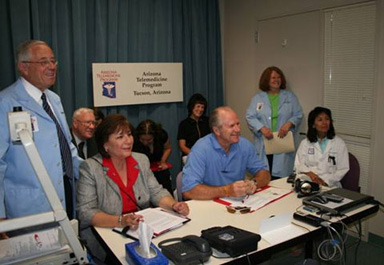 Perhaps the greatest accomplishment of the Arizona Telemedicine Program has been to create strong ties between the University of Arizona College of Medicine, various healthcare providers, and the state legislature. Bridges built between state agencies, local governments and legislative bodies are fostering a high level of awareness of the importance of telemedicine and e-health to achieving the state's healthcare goals. The program also serves as a platform upon which the state's only College of Medicine can demonstrate its value to exceptionally broad constituencies throughout Arizona and the nation as a clinical research center, a tertiary care facility, and as an educational institution.