Advances in Telemedicine and Telehealth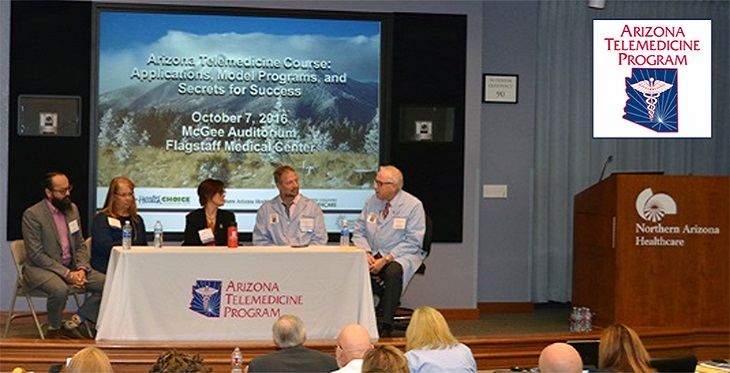 A Training Session for Healthcare Professionals
Flagstaff Medical Center - Friday, Nov. 3, 2017
9 a.m. to 3:45 p.m.
 The Arizona Telemedicine Program (ATP) and the Southwest Telehealth Resource Center (SWTRC) are offering "Advances in Telemedicine and Telehealth," a full-day training for healthcare providers and administrators, Nov. 3, at the Flagstaff Medical Center's McGee Auditorium.
Experts from around Arizona will share their experiences in delivering a variety of telehealth and telemedicine programs to rural communities throughout the state.

"We are proud that Arizona is a national leader in telemedicine," said Ronald S. Weinstein, MD, founding director of the ATP. "This training program features leaders in Arizona who are taking center stage in telemedicine nationally."
Topics and presenters are:
Northern Arizona Healthcare's Direct-to-Consumer Telemedicine Partnership: Gigi Sorenson, RN, MSN, director of clinical integration, GlobalMed; and formerly system director of Telehealth & Community Connected Care, Northern Arizona Healthcare)
Telepsychiatry: Sara F. Gibson, MD, medical director of telemedicine, Health Choice Integrated Care
North Country Healthcare's Regional Telehealth Program: Sean Clendaniel, MPH, director, Northern Arizona Area Health Education Center; director, education and technology and compliance officer, North Country Healthcare
Banner Health's eICU Program: Deborah H. Dahl, vice president for patient care innovation, Banner Health
Mayo Clinic Center for Connected Care: a Systemwide Approach to Telemedicine: Bart M. Demaerschalk, MD, MSc, FRCPC, professor of neurology and medical director, telemedicine, Mayo Clinic Center for Connected Care
Lunchtime Roundtable: Taking the Pilot Out of the Program: Sustainable Telemedicine: Dr. Weinstein, Deborah Dahl, Dr. Demaerschalk, Dr. Gibson and Gigi Sorenson
Telemedicine and Telehealth Standards and Guidelines: Elizabeth A. Krupinski, PhD, FATA, ATP associate director for evaluation; SWTRC co-director
VA Telehealth Programs in Arizona: Valentin O. Rivish, RN, BSN, MSN, Phoenix Veterans Affairs Health Care System
Project ECHO Programs: Colleen J. Hopkins, Telemedicine Clinical Coordinator, North Country Healthcare; and Nancy S. Rowe, ATP associate director for outreach
Telemedicine Facilities and Devices: Janet M. Major, ATP associate director for facilities
Co-sponsors of "Advances in Telemedicine and Telehealth" are Health Choice Integrated Care (HCIC); North Country Healthcare; and Northern Arizona Healthcare (NAH), all Flagstaff-based regional telehealth networks and founding members of the Northern Arizona Telehealth Alliance.
This is the fourth Flagstaff telemedicine training presented by the ATP and SWTRC and co-sponsored by HCIC, North Country Healthcare, and NAH.  All three previous trainings have sold out.
To register, go to http://telemedicine.arizona.edu/training. Please note that the registration fee of $300 will be waived for healthcare workers from Arizona, New Mexico, Colorado, Utah and Nevada, the five states served by the SWTRC.
For additional information, contact:
The Arizona Telemedicine Program's training events are accredited by the American Telemedicine Association.