Yuma Regional Medical Center a "Most Wired" Winner – Again!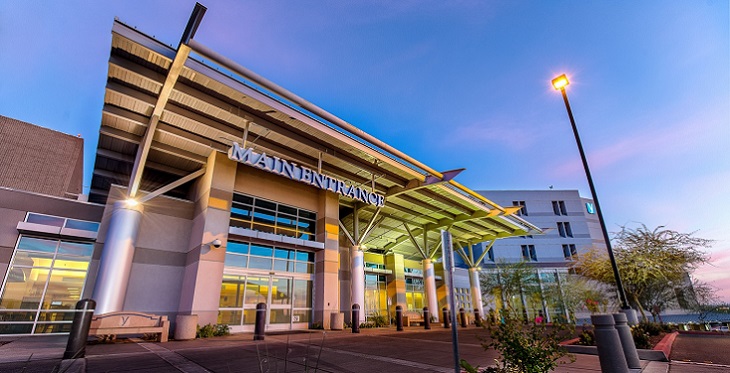 Yuma Regional Medical Center in Southwestern Arizona has been named one of the nation's "Most Wired" hospitals – an award given annually by the American Hospital Association's Health Forum.
It's the second consecutive year the Yuma hospital has won the award.
"It is very, very satisfying to know that we have reached that milestone," said Fred Peet, Yuma Regional's chief information officer. "But we still recognize that there is always room for improvement, and we continue to look for opportunities to provide technology to assist in the care of our patients, so we can make their experience that much more enjoyable."
Since 2006, Yuma Regional has partnered with the Arizona Telemedicine Program, as a primary source of technical support, while working with several health-care organizations to provide timely, often life-saving care.
Yuma Regional's first foray into telemedicine was to connect with University of Arizona physicians who consulted with Yuma doctors in the care of children with the state's Children's Rehabilitative Services.
Next, the Yuma hospital took part in the Phoenix Mayo Clinic's landmark telestroke pilot program, which is now an important – and highly successful – part of the hospital's telehealth program, Peet said.
"We are able to treat patients much more promptly, and we don't have to automatically put them on a transport and send them to a hospital in Phoenix or San Diego. We can provide the care they need with a stroke specialist without having to subject them to all of that stress that really makes it difficult for a patient and a family to focus on what's at hand."
In addition to telestroke care, the hospital's telehealth offerings today include teleburn care with the Arizona Burn Center in Phoenix, and telecardiology for NICU patients, in partnership with the pediatric cardiology program in the University of Arizona College of Medicine – Tucson.
"Yuma Regional Medical Center has been a pioneer in the use of multi-disciplinary telemedicine, through multiple vendors," said Ronald S. Weinstein, MD, founding director of the Arizona Telemedicine Program. "They have shown us that working with diverse vendors is not only practical, but a highly successful way to bring a variety of top-notch services to their program.
"We have learned a lot from them, and we have been proud to partner with them," Dr. Weinstein said. "They have a great team and they have made their program a success."
Yuma Regional is continually evaluating and planning ways to expand its telemedicine services, Peet said.
"We are looking at those types of opportunities either in the home or a location near the home in the community, that would allow people to talk, for example, to a primary care provider," whether the situation is an acute illness or a follow-up on a chronic condition, he said.
"Our struggle is that we do not have reimbursement for some of those services, and it can be prohibitive for us to implement the technology and the physician resources and other necessary staff if the insurers aren't going to offer some compensation for that."
Rick Pollack, president and CEO of the American Hospital Association, pointed to that challenge in the association's announcement of this year's Most Wired awardees.
"Hospitals are breaking out of their traditional four walls and providing care where and when patients need it," he said. "These Most Wired hospitals exemplify this transformation by harnessing technology, engaging patients and offering services remotely. And, removing policy and other barriers to telehealth will allow even faster adoption of these amazing technologies."
See the American Hospital Association's announcement of this year's Most Wired winners:
http://www.hhnmag.com/ext/resources/inc-hhn/pdfs/mostWired/2016/MW---2016-Press-Release-final.pdf