Using Telemediquette to Make Your Telemedicine Encounters Effective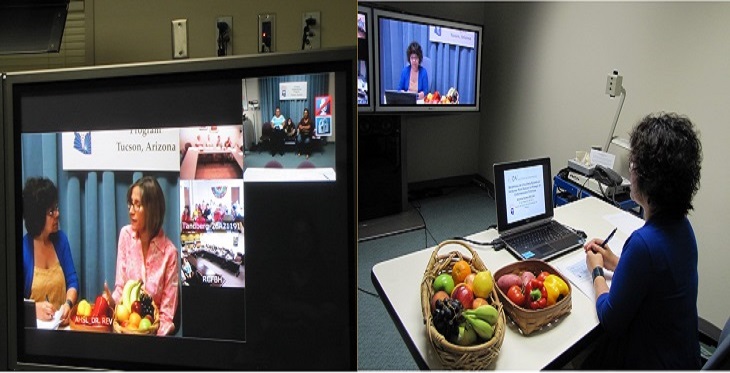 Telemediquette (ˈteləˌ ˈmedəkət) noun: the art and science of developing telemedicine protocols for technology used to communicate medical information at a distance.
Medical etiquette is defined as the code of ethical behavior regarding professional practice or action among the members of a profession in their dealings with each other.
Telemedicine involves interacting with a physician specialist--a diabetes educator, for example--or your primary healthcare provider at a distance.  To communicate at a distance and put the "tele" into telemedicine, particularly for videoconferencing applications, requires lighting, cameras and microphones.  We need to add "lights, camera, action" into an environment that traditionally has not required or welcomed these tools.  These technologies improve efficiency and help us create what we really need:  time, space and access to health care.
To translate the necessary elements of production into the clinical setting requires technical expertise, and often a bucket of flat, telemedicine-blue latex paint. Environmental issues need to be considered in creating tele-clinics, including creating an acceptable background for videoconferencing applications, the placement of the microphone, and the necessity for having an evenly lit patient exam area. 
Making the patient encounter a pleasant experience is unlike the reality TV programs we are most familiar with.  Making the referring primary care provider or the specialist at the remote site look like a scary monster from your favorite horror film is not desirable, but actually very easy to do inadvertently.  We want to be sure we create an environment and use technical protocols that make everyone look normal for both clinical and educational applications. An excellent resource for best practices in distance learning is the United States Distance Learning Association (www.usdla.org). And a recommended resource for clinical protocols is the American Telemedicine Association ( www.americantelemed.org).
To enhance and facilitate communication in a telemedicine clinical environment requires being aware of some of the "tricks of the telemedicine trade" that we have learned in Arizona.  As telemedicine professionals, our goal is to develop and incorporate both technical and clinical protocols for any telemedicine services that are offered, including education and all telehealth encounters.  To accomplish this task, we observe the best practice guidelines implied by the phrase "telemediquette": the art and science of developing telemedicine protocols for  technology used to communicate medical information at a distance.
Here's the short list of critical telemediquette considerations:
lighting – not too dark (no backlighting/no windows behind you that will silhouette you and make you look like a dark, scary monster!)
audio – be sure you have the ability to quickly turn on/off the microphone (no dogs barking, phones ringing, etc.); also be careful with noises such as shuffling paper, keyboarding, or setting down coffee mugs when your microphone is live
background – should be simple and not cluttered; preferably a flat latex pastel color (no doors, windows or distractions)
place the camera where you can establish eye contact with your remote participants (frame up a nice, head-on view of your face and shoulders when you're talking!)
no eating – or at least turn off your microphone and mute your video if you do!
The Arizona Telemedicine Program frequently hosts training programs on a variety of telemedicine and telehealth topics, including "How to be a Telepresenter."  Please visit our website at http://telemedicine.arizona.edu/training as well as our archive of training materials at www.swtrc.org/.
In conclusion, the most important points to remember to be a good telepresenter in telemedicine:
The focus should always be on the patient and not the technology.
It is critical to control the audio and NOT be broadcasting unless it's intentional.
The bottom line with regards to behavior: do not eat your lunch, blow your nose or do things you would not normally do when communicating in person with a health-care professional or patient.
In other words, do NOT do anything by videoconference that you would find embarrassing.

To quote my friend, Polly Calm from Polycom, "Don't Be a VIDIOT!"
(http://www.polycom.com/hd-video-conferencing/polly-calm-vidiquette.html)

Please be aware that one of the leading organizations in the telemedicine world – the Arizona Telemedicine Program – is right here in your own backyard.  We have been practicing the art and science of providing telemedicine and telehealth services and training for almost 20 years and we would love to help you continue to improve the health of the state of Arizona - or wherever you may be!