UA Doctors With School Asthma Study Give Telemedicine an 'A'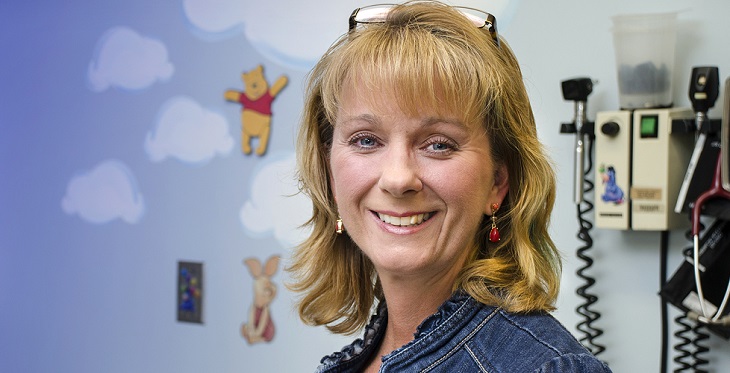 Like many first-time users of new technology, clinicians taking part in an NIH-funded study to reduce asthma morbidity in elementary school children had some doubts.
But after several months of monitoring children from a distance, using 3M Littman Bluetooth stethoscopes, they were nearly 100 percent in favor of the new technology.
For these clinicians – four physicians and a family nurse practitioner – a stethoscope was an instrument to be placed on a patient's chest and back. Now they were going to place the Bluetooth version on a computer screen, to hear the lung sounds of a child in an elementary school miles away.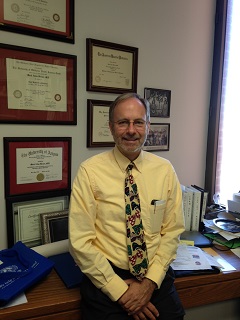 "I had two concerns," said pediatric pulmonologist Mark Brown, MD, professor of pediatrics at the University of Arizona College of Medicine in Tucson, and a member of the UA Health Sciences Asthma and Airway Disease Research Center.  He had previously done a few consults with the UA-based Arizona Telemedicine Program, but it had been a while.
"One was the quality of the stethoscope, and the other was the reliability of the connection.
"Then I found the stethoscope was great. We plug it into a laptop and at the other end is a person with the same type of stethoscope and I hear whatever they hear. The sound fidelity was really good. I was amazed.
"There were some issues with the broadband at different schools, but that's something that can easily be fixed.
"And the kids liked it too. We had a good time."
Conrad Clemens, MD, professor of pediatrics at the UA College of Medicine in Tucson, also took part in the study.
"I have been amazed," Dr. Clemens said in an interview after the Bluetooth study got started in August 2015. "The quality of the technology combined with the children's comfort with 'virtual relationships' has led to wonderful, high-quality care that I can provide for schools throughout Tucson, without ever leaving my office."
Dr. Clemens made his Bluetooth sessions even more fun for kids by creating avatars of himself. The children's favorite was his avatar shark.
Dr. Brown, claiming to be less tech-savvy than Dr. Clemens, got a kick out of fist-bumps and high-fives with kids at the end of their visits.
Important to both Dr. Brown and Dr. Clemens was the time saved by not having to drive to the schools and back, which could eat up half a day.
"What I missed with the Bluetooth project was going out to the schools. That was a blast, seeing the kids running around and getting to play with them.
"But some of these schools were an hour away," Dr. Brown said. "Now I could do this from my office, and get other things done in between the students."
Dr. Brown said he would recommend the project to other schools. "I think this would be a great way to get more care for kids in schools."
The Bluetooth stethoscope study was the final chapter of a much larger study funded by the National Heart, Lung and Blood Institute, called SAMS, for Supervised Asthma Medicine in Schools. In addition to the Tucson Unified School District, collaborators included the Arizona chapter of the American Lung Association and the Arizona Telemedicine Program.
The study's principal investigator is Lynn Gerald, PhD, professor with the UA's Mel and Enid Zuckerman College of Public Health, and associate director of clinical research for the Asthma and Airway Disease Research Center. She is nationally recognized for her research in children's asthma.
During the 2014-2015 academic year, the clinicians drove from their offices to elementary schools sometimes 20 or more miles away. They examined kindergarten through sixth-grade children with asthma, evaluated their treatment regimen and consulted with school nurses about the best treatment for each child.
At the schools, children checked in each morning with their school nurse or health aid and used their corticosteroid inhaler – provided to each child through the federal grant.
Key contributors to the study were students with the UA College of Public Health, who were trained in the American Lung Association's Open Airways program, to teach children in kindergarten through sixth grade how to recognize oncoming asthma, how to avoid triggers, and to be sure to use their medications as prescribed.
Ashley Anne Lowe, who graduated from the UA with a BS in public health in 2015, was one of the Open Airways instructors. After completing that elective, she chose to work with the SAMS project. Her goal is to earn a PhD in public health, with a focus on health behavior and health promotion, which she will start working toward this fall.
"My little sister had severe asthma from age 6 on. She missed a lot of school and a lot of opportunities in life," Ms. Lowe said.
"I have a definite interest in health disparities and promoting children's health, and I want to create programs to eliminate some of the factors that lead to health disparities."
Ms. Lowe got a terrific head start on her public health career by working with the SAMS project. She went to each school to interview students about their asthma, and learned the importance of standardizing questions – a challenge when the study subjects range from kindergarten to sixth grade.
She also developed questionnaires for the health coordinators and clinicians who were using the Bluetooth stethoscopes. Her findings: 91 percent found the Bluetooth system easy to use; 72 percent said communication with patients and clinic staff said communication was unimpaired; and 69 percent said the system did not impair the doctor-patient rapport.
Sixteen percent said not being able to touch the patient impaired their diagnosis.
As for the school children, Ms. Lowe's findings included the sobering fact that 89 percent of the 233 children who participated in the project were eligible for free and reduced lunch at school. She found that 72 percent were Hispanic – a population with a lower incidence of asthma, but with higher rates of asthma morbidity compared to non-Hispanic children.
Ms. Lowe was invited to give an oral presentation of her findings at the American Thoracic Society International Conference in San Francisco in May. The ATS board awarded her a travel scholarship to attend the conference.
"This is an amazing accomplishment and even more impressive, given that she was an undergraduate student when she did this work," Dr. Gerald said.
Dr. Brown is no less enthusiastic about Ms. Lowe's work.
"Ashley was great," he said. "She was really enthusiastic about this study. She was so responsive if we had a question or a problem. She's really bright. She was eager to see this project succeed and eager to evaluate this piece of it. It was not something we planned at the outset but she took it on and ran with it."