Teletherapy Competencies, the What and How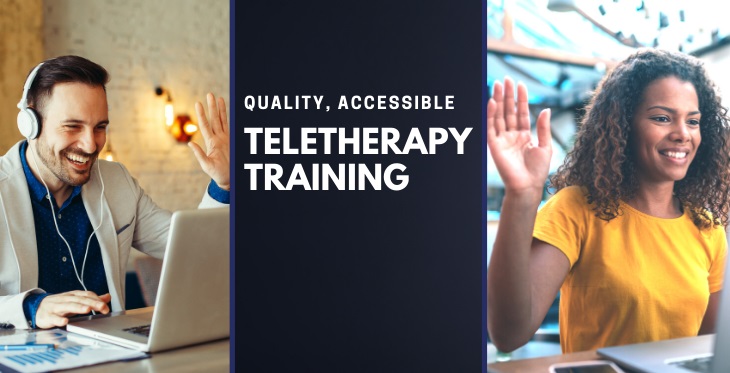 Competencies that should be covered in a teletherapy training for behavioral health professionals
Teletherapy practice requires a consistent application of evidence-based competencies for the best patient outcomes, but many clinicians practice teletherapy without even realizing that they are missing key competencies. As the CEO of the Telehealth Certification Institute, a teletherapy training provider of over 22,000 clinicians, I've noticed that students are often surprised with how much their practice competencies develop after they attend a rigorous teletherapy training.
Unfortunately, graduate-level counseling programs rarely feature teletherapy coursework in their curriculums. Clinical instruction for on-site therapy is still the main focus for most educational institutions, despite the rise in evidence that supports telemental health.
According to the American Telemedicine Association found that every group of patients they have studied benefited from remote video conferencing interventions. While core teletherapy competencies are identifiable and teachable, the first step is to understand which competencies demonstrate ideal teletherapy behaviors.
In a recent study, Alex Dopp and his colleagues assessed the confidence levels of doctoral psychology students who used telepsychology by examining eight domains: service; technical skills; administrative skills; multicultural competence; research and evaluation; risk assessment; ethics and law; and assessment.
For the most part, there is widespread agreement amongst the telemental health professions that certain competencies are more critical than others. As the CEO of the Telehealth Certification Institute, I took a thorough look at counseling, psychology, social work, marital-family therapy, substance use, nursing, and psychiatry ethical standards before finalizing my telemental health course competencies.
Barriers that challenge teletherapy provider competence
According to Alex Dopp and his team, many of the biggest telepsychology barriers were technological. Here are four key tech barriers that were identified by the researchers:
A lack of knowledge (from both clients and providers).
A limited ability to complete in-person tasks remotely with technology.
Online connectivity issues.
The constant evolution of teletherapy standards.
Since telepsychology services often create greater geographic flexibility, evidence from telepsychology research has found that generalist training in cultural competence is not always enough to effectively serve clients. A well-devised teletherapy training program can help students build the right skillset to lessen these concerns.
How training should be provided
Graduate-level coursework in teletherapy is not easy to find. In fact, only four U.S. doctoral programs in clinical psychology incorporate telepsychology as a part of a student's required training. Continuing education providers typically offer synchronous and/or asynchronous training opportunities, but these organizations should also be vetted for quality. In my view, understanding teletherapy training competencies can provide students with valuable search criteria when looking for the right course.
Another element to consider, when assessing a teletherapy training program, is the modality that will be taught. Coursework that prepares therapists to use video conferencing, phone, and web-based applications emphasizes the responsibility of adapting to the client's needs. According to McCord and colleagues, clinical providers should consider how practice settings and modalities impact the content that they are learning in a telemental health training.
Though the personal requirements of a student may dictate the delivery method of the training (online or on-site), in my experience, teletherapy competence can vastly improve when an experiential component is used in a training. This way students can practice competencies under the watchful eye of an encouraging instructor.
Based on course feedback that I've received from thousands of clinicians, I've noticed that live webinar courses are one of the best ways clinicians can learn competencies to perform tasks on the job. During live webinar courses, participants ask questions about providing telemental health services, while also receiving support from students who have had success managing similar challenges. I've found that this arrangement creates a collaborative and satisfying training atmosphere. But to be effective, training in teletherapy must continue to evolve with the needs of clinicians, healthcare organizations, and the clients who are served.