Telestroke: Improving Stroke Care for Rural Arizona Residents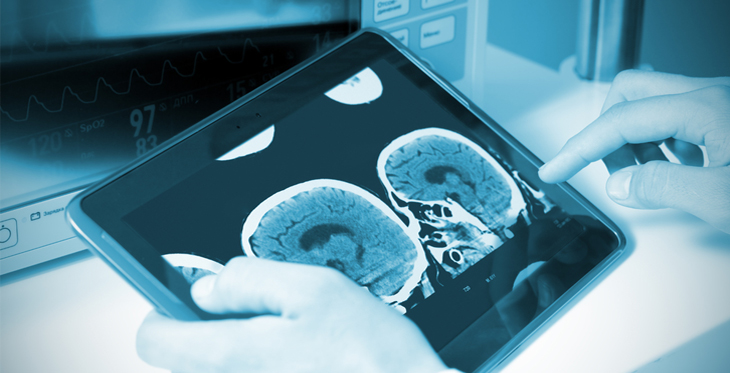 In 2005, patients who were hospitalized with an ischemic stroke in Tucson or Phoenix were 10 times as likely to receive potentially life-saving medical care as patients treated at hospitals in rural Arizona.
Today, patients in rural Arizona have as good or even better chance of receiving the best possible treatment – a "clot-busting" drug called tPA - compared with stroke patients in the state's two largest cities.
The change came about because of the Telestroke Program at the Mayo Clinic – Phoenix.
Laying Groundwork to Reach Rural Arizonans
The two visionary physicians who developed the program are Bart M. Demaerschalk, MD, professor of neurology and director of the telestroke and teleneurology programs at Mayo Clinic; and Ben Bobrow, MD, professor of emergency medicine at the University of Arizona College of Medicine – Phoenix, and medical director of the Bureau of Emergency Medicine Services and Trauma System for the Arizona Department of Health Services. 
"We recognized in 2005 that acute stroke care had not blossomed into an established service line of the Arizona Telemedicine Program," Demaerschalk recalls. "So we saw that as an important opportunity to improve patient care."
With funding from Mayo, Demaerschalk and Bobrow surveyed 37 hospitals outside of Phoenix and Tucson, and learned that only one had round-the-clock neurology coverage. The rest had only spotty neurology coverage – or none at all.
They also visited established telestroke programs at the University of California, San Diego (UCSD) and the University of Utah, learning how they developed their services, including how they measured quality of care.
Their next step, in 2007, was to get Mayo involved in a UCSD study funded by the National Institutes of Health. Called the Stroke Doc Trial, it compared telemedicine consults to telephone consults for patients admitted to ERs with symptoms of stroke.
Stroke Doc was funded by the National Institutes of Health, with the Arizona Department of Health Services (ADHS) covering the costs of Mayo's participation.
STAR is Born
In 2009, encouraged by what they were seeing, Demaerschalk and Bobrow next obtained additional ADHS funding for their own research, a three-year study called STAR – Stroke Telemedicine for Arizona Rural Residents.
This time, all patients were managed through telemedicine consults with Demaerschalk and other stroke experts at Mayo. And with Mayo Clinic – Phoenix as the telemedicine "hub," the STAR study expanded to include Bisbee's Copper Queen Community Hospital, followed by other rural hospitals in Cottonwood, Parker, Flagstaff, Tuba City, ShowLow, Globe, Kingman, Casa Grande and Yuma. Maricopa Medical Center in downtown Phoenix also participated. 
The study wrapped up in 2012, and final data are currently being analyzed.
From Research to Practice 
As STAR was nearing completion, Demaerschalk and Bobrow began working with their telestroke colleagues to reach their ultimate goal, to take Mayo's telestroke program from a research program to a non-profit, sustainable business.
"It took a year and 25 individuals to construct the 80-page plan," Demaerschalk says, "and not a single community partner was lost in that transition. I think that reflects the quality of the program, and the strength of the relationships that were built in the process."
In its first two years, Mayo's telestroke program evaluated 50 stroke patients. That number has now grown to 1,500 or more annually.
The quality metrics – including lives saved and numbers of stroke patients who avoid permanent disability – are now as good at the state's rural hospitals as they are in Tucson and Phoenix. 
"We have also reduced the need for medical transport," Demaerschalk says. "Before telestroke, 90 percent of rural patients experiencing stroke were transported by ground or air ambulance to Tucson or Phoenix. And now that transport rate has dropped to well below 30 percent."
"That means patients and their families can enjoy the community support that otherwise might be fractured or lost or difficult to maintain, because of geography and time."
Doctors, hospitals and health insurers also win, Demaerschalk says. Doctors, because they don't want to tackle stroke care without the support of a consulting neurologist. Hospitals, because they can retain their patients and not lose revenue. Insurers, because their costs are reduced.
No wonder Demaerschalk considers telestroke "one of the poster children for telemedicine. It's better care, it's convenient, it's expert care where it otherwise wouldn't exist, and with better outcomes, and it costs less money. It's a rare gem."