Telemedicine Scores a Touchdown: VGo Robot Helps Diagnose Concussion on the Football Field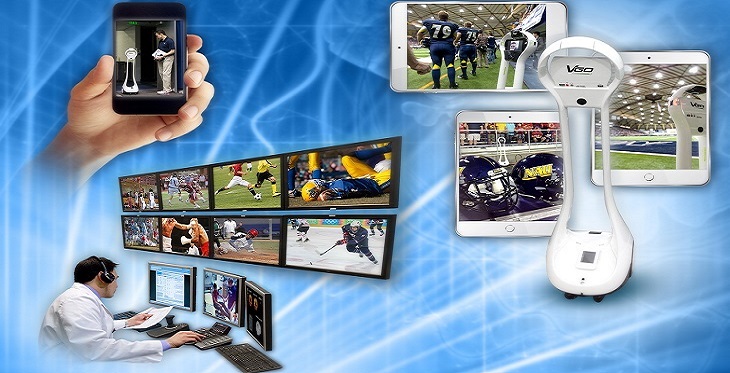 When the UA Wildcats hosted Northern Arizona University at the teams' 2013 football season opener in Tucson, a new NAU "team member" stood on the sidelines, ready to make a bit of medical history.
VGo – a four-foot-tall telemedicine robot on wheels – was standing by, ready to assist, should any injured player show signs of concussion.
VGo – pronounced VEE-go – would relay vital, real-time information about the player's condition to a neurologist with Mayo Clinic Hospital in Phoenix. Mayo neurologists partnered with NAU to research the robot's ability to accurately and effectively diagnose concussion, when the closest neurologist is far from the football field.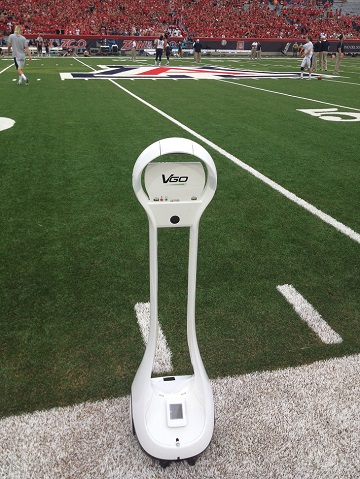 The study was conducted over two football seasons, starting with the Aug. 30, 2013 game in Arizona Stadium through the 2015 season. The NAU team physician and athletic trainer stood by VGo along with a Mayo Hospital Clinic neurologist, while a second Mayo neurologist with expertise in concussion observed via the robot.
The NAU trainer and physician, and the neurologist stationed at Mayo, assisted by VGo, assessed injured players, using three standardized concussion assessment tools. They did not share their findings, to avoid biasing their results.
"Through those two seasons there were 11 players who had suspected concussions and were assessed on-site as well as remotely, using standardized tools," said Mayo neurologist Amaal Starling, MD, who was co-investigator on the study with her colleague, neurologist Bert Vargas, MD, a 1999 graduate of the University of Arizona College of Medicine in Tucson.
Nine of the 11 players were found to have concussions.
The research showed that the on-site trainer and the Mayo neurologist who examined the player via the robot were 100 percent in agreement as to whether the injured player had suffered a concussion, and needed to be taken out of the game.
"It was a very, very positive result," Dr. Starling said. "What we also learned was that while we expected to examine players on the sidelines, it was sometimes too loud, especially if the football stadium had a dome, and so we moved the VGo into the locker room or tunnel, where we could easily do the assessments.
"We also discovered at some of the games that we didn't have Wi-fi, but we got over that barrier by using a mobile hotspot.
"It's definitely something that we're very excited about," Dr. Starling said.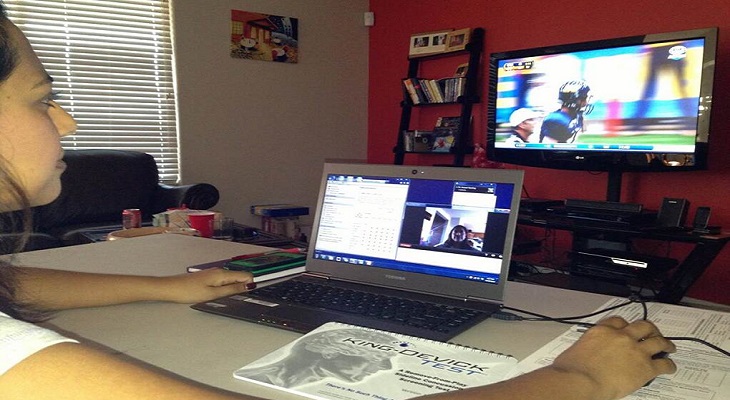 But Dr. Starling does not expect a VGo robot at every NFL game from now on. The professional teams are well staffed with medical personnel, who may include a neurologist watching players from the sidelines, she said.
"I don't even think this is something that will be used in the big football colleges," she said.
"I do see this as a huge tool and advancement for the smaller colleges as well as the high schools. I think it's important that every high school have a dedicated athletic trainer who has easy access to a neurologist who can evaluate brain dysfunction."
"I think it's important for us to recognize that youth sports have a huge positive benefit, even though concussion is serious and something we need to continue to talk about and perform well designed research studies," Dr. Starling said.