Telemedicine in Psychiatry – It Is Here to Stay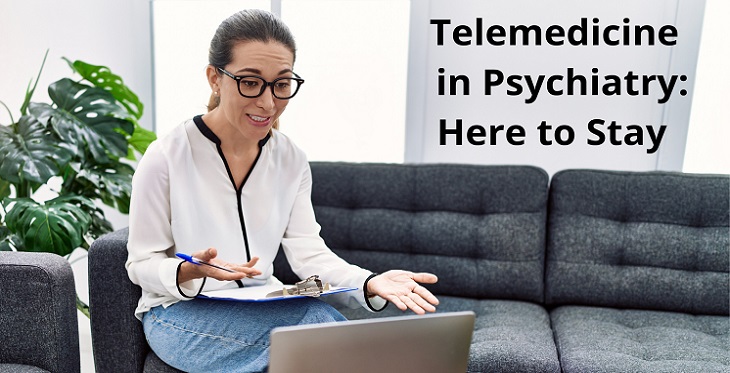 Before the pandemic, Amy Hu, MD, a psychiatrist with Banner Health and a UArizona College of Medicine Clinical Assistant Professor of Psychiatry, had not utilized telemedicine to see her patients. She says she viewed it as more of a niche application for other healthcare providers.
"I did have some misconceptions about what telehealth was like. I thought that patients may not feel as engaged or connected, or that it might feel a little unnatural compared to meeting in-person."
However, with the COVID-19 shutdowns in March 2020, the shift to telemedicine was swift. "Our clinic went from seeing all patients in-person to exclusively telehealth almost overnight. Everyone had to adapt pretty quickly."
As the pandemic wore on, and the rates of substance abuse and mental illnesses increased, telemedicine was imperative to therapy. Even as Banner's Behavioral Health Clinics are seeing people in person again, there are populations that are very much committed to their telehealth appointments.
Dr. Hu says the feedback she's received is that "most people find telehealth much more accessible and convenient. It's been particularly beneficial for some of my Cancer Center patients by slightly easing the burden of time and commuting – given how many oncology, infusion, imaging or lab appointments they have. Some of them appreciate televisits because even physically coming into the building can be a negative experience, they'll get anxious or nauseous, because their brains have come to associate the building with chemo or receiving bad news.
"As a generalization, I've noticed that my younger patients seem to overwhelmingly prefer telehealth, although not all of them. It comes down to the preference of the individual as to whether they need to have that in-person presence. If that is the case, age, time limitations or distance from the clinic don't necessarily matter."
Telemedicine has also helped psychiatrists learn more about their patients in powerful, highly beneficial ways.
"It's been a gift to get a glimpse into peoples' lives and to get to know them better," Dr. Hu says. "I've met pets and family members, and had many interesting conversations with patients about their art or plant collections. My most memorable experience is seeing a portrait of one of my patients on their wall during our appointment. There turned out to be a fascinating story about the portrait, why it was painted and the artist who painted it, which it made me see this patient in a completely different way. This was an individual who had been struggling with significant medical and functional limitations for some time, and felt pretty demoralized. The portrait ended up becoming a reminder for both of us that there was this entire part of their identity that was separate from their illnesses."
Another benefit of telemedicine in psychiatry is its ability to help bridge health care disparity gaps by removing potential barriers to care.
"It's not always easy to make it to appointments in the first place, especially if relying on public transportation. Or patients may own a car but have medical reasons that limit their ability to drive," shares Dr. Hu. "They may have caregiving responsibilities that make it difficult for them to leave the house. And not all jobs offer the flexibility to attend doctors' appointments. I've been able to meet with people virtually during their 30-minute work break, whereas an in-person appointment could require taking 90 minutes off work – once you factor in a long bus commute – which may not be possible."
Conversely, some of the drawbacks to telemedicine include the inability to take vitals, see a patient's entire body and be able to assess involuntary abnormal movements, gait, among other issues.
"The flipside of telehealth being so accessible and convenient is that people may take a more casual approach to appointments. For example, not writing down or remembering the appointment time because they assume they'll pick up the phone when I call. Sometimes this backfires. I've had to let people know I can't do their appointment while they're driving or at the grocery store due to safety or privacy concerns.
"Patients can get the most out of their televisits by consciously setting aside the time and space to focus on one's treatment and designating a specific space in their house for their virtual therapy sessions."
What is the role of telemedicine in the future of psychiatry?
"It's definitely here to stay," Dr. Hu states. "I think the benefits do outweigh the drawbacks, and it being the only default option earlier in the pandemic has helped address a lot of the misconceptions that both patients and providers may have had about telehealth."