Telemedicine Policy Proves to Be a Hot Topic in Arizona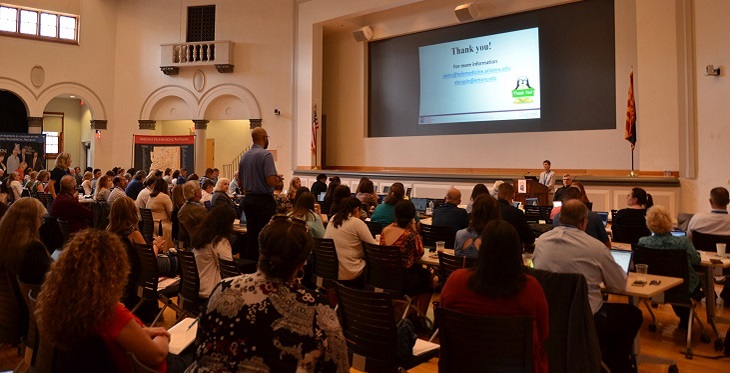 Telehealth has taken off in Arizona and nationwide, and policy-makers have been scrambling to keep up. To focus on the policy issues affecting and being affected by the growth of telemedicine and telehealth, the Arizona Telemedicine Program (ATP) and Southwest Telehealth Resource Center (SWTRC) hosted the inaugural Arizona Telemedicine Policy Symposium Sept. 23 in Phoenix.
ATP Director Ronald S. Weinstein, MD, and Arizona Corporation Commission Chairman Robert "Bob" Burns opened the symposium, which attracted more than 120 attendees. The agenda featured an amazing lineup of policy and telehealth leaders discussing recent and exciting changes to telehealth policy and future changes needed. As the emcee, I had a front-row seat to hear about all that is happening—and there's a lot!
These were the presenters, topics, and takeaways:
Mei Kwong, Executive Director of the Center for Connected Health Policy, provided a roundup of CMS telehealth policy and changes as well as telehealth policy trends in the states.

Two new 2018 federal laws expanded Medicare telehealth coverage for end-stage renal disease, acute stroke, and substance use disorder and will allow Medicare Advantage plans flexibility to expand telehealth coverage.
The Centers for Medicare and Medicaid Services expanded telehealth coverage by adding new telehealth codes, adding new remote patient monitoring (RPM) codes, and adding new codes for "communication technology-based services."
The proposed 2020 Physician Fee Schedule expands telehealth coverage for opioid use disorder, chronic care and principal care management, and RPM.
Additional bills that would expand Medicare telehealth coverage have been introduced in Congress.
All 50 state Medicaid programs cover live video telemedicine, 11 cover store-and-forward, and 20 cover RPM. 39 states and DC have telehealth private payer laws.



State Senator Heather Carter; Marcus Johnson, Director, State Health Policy and Advocacy for Vitalyst Health Foundation; and Mike Keeling, Partner at Keeling Law Offices, discussed Arizona's current and future telehealth legislation.

Our current healthcare system is complicated, inefficient and ineffective—the US lags behind many developed countries in terms of health outcomes even though we spend more.
We need to move away from hospital-centric care to patient-centric care—and telehealth can help with that.
Over the years Arizona has removed more and more restrictions on telehealth practice and reimbursement, but we still need to chip away until no more restrictions apply.
Telehealth advocacy is encouraged; there are differences in advocacy rules between 501(c)(3) vs 501(c)(4) entities.

SWTRC Co-Director Elizabeth Krupinski reviewed preliminary results of a statewide survey of telehealth use and barriers in Arizona conducted by the ATP and SWTRC.

Behavioral/mental health, psychiatry and primary care are the top three telehealth specialties in Arizona.
Telehealth benefits are numerous (cost reductions, patient and provider satisfaction, patient outcomes, etc.) and recognized even by those not yet doing (but wanting to start) telehealth.
Key challenges to starting or expanding telehealth programs are logistics, personnel/staff, complicated platform choices, costs, legal/liability concerns, staff turnover and training, licensing/credentialing hassles, lack of EHR integration, and time.



Sara Salek, MD, Chief Medical Officer of AHCCCS (Arizona's Medicaid program) informed the crowd of a proposed overhaul of AHCCCS telehealth policy.

Proposed changes include:

Removing restrictions on real-time telemedicine coverage (currently limited to 17 disciplines) entirely and allowing the current standard of care to define what's allowed.
Expanding asynchronous coverage to dermatology, radiology, ophthalmology, pathology, neurology, cardiology, behavioral health, and infectious disease.
Removing all restrictions on telemonitoring (currently limited to congestive heart failure).
Broadening allowable locations of both provider and patient (including the patient home) for a telehealth service.

MCOs will retain their right to contract for services as they see fit; AHCCCS will encourage but not require telemedicine coverage.



Two representatives of the University of Arizona's Mel and Enid Zuckerman College of Public Health talked about healthcare workforce development in Arizona: Heather Carter, wearing her other hat as Co-Director of the Arizona Center for Rural Health, and Leila Barraza, Assistant Professor and Director of the Rural Health Professions Program.

There is a huge healthcare workforce shortage throughout the state, with 563 primary care physicians (PCPs) needed now and nearly 2,000 needed by 2030. Our state ranks 44th in the US in number of PCPs per 100,000 population.
Arizona doesn't have enough medical residency positions; although the number of residency slots has increased in the past 10 years, few of the new slots are for primary care.
Gains were made in the 2019 legislative session, including an increase in Graduate Medical Education funding, funding to expand the number of medical students in primary care, and funding to expand rural broadband, continue KidsCare, and purchase rural prenatal telemedicine equipment.
We need to train the next generation of clinicians to utilize technology and telehealth in the same way teachers are being trained to use technology.



Patricia McSorley, Executive Director of the Arizona Medical Board; Joey Ridenour, Executive Director of the Arizona State Board of Nursing; and Kristine Erps, ATP Associate Director for Administration, explained interstate licensure compacts.

Multiple compacts exist, including the PSYPSACT, Physical Therapy Compact, EMS Compact, and Advanced Practice Registered Nurse Compact, each with its own structure.
The Enhanced Nurse Licensure Compact has been in place for over 20 years. Applicants who meet the Uniform Licensure Requirements and don't have any disqualifying events are eligible for a multi-state license. In many of the compact states, no additional fees, paperwork, or review are needed.
The Interstate Medical Licensure Compact began issuing licenses in April 2017. It provides an expedited pathway to licensure for physicians with exemplary practice histories. Any physician from a compact state who meets the qualifications of the compact will be eligible for licensure in any other compact state and responsible for obeying all statutory laws and administrative rules of that state.



Commissioner Burns and Jeff Sobotka, Vice President and State Broadband Director for the Arizona Commerce Authority, discussed broadband initiatives in Arizona and their impact on telehealth.

The Arizona Corporation Commission brought in federal matching funds for deploying broadband to rural Arizona schools and libraries.
Arizona has a "digital divide," with most fiber optic cable concentrated in urban areas and population centers.
The Arizona Commerce Authority and governor's office are coordinating actions to address broadband access issues. Regulatory barriers on government-owned land (81.9 percent of Arizona) create a challenge.
APS is laying fiber from Phoenix through Payson to the Northeast corner of the state; this creates broadband access opportunities for communities along that route.
$3 million is available in Arizona Rural Broadband Development Grants for broadband expansion. 
Attendee feedback on the symposium was overwhelmingly positive, including these comments:
"This information is simply not easily available from other sources, but is essential to understanding the AZ healthcare environment."
"Interesting, will be good topics for follow-up in subsequent symposiums."
"Opportunity to hear from experts in so many pertinent aspects of the telehealth arena in one place."
"Thank you! Great speakers! Timely, important topics."
"This was amazing information."
"Glad I came. Well worth commitment of time. I hope to be able to attend next year!"
I was thrilled to be a part of this gathering of telehealth experts, policy leaders, and stakeholders. The day illustrated how far Arizona has come in terms of telehealth policy and how far we still need to go to ensure that all of our citizens have access to healthcare. The ATP and SWTRC plan to make this symposium an annual event, so let us know what you'd like to hear about in terms of Arizona telehealth policy, and I hope to see you at next year's symposium!