Substance exposed newborns to receive holistic care at Hushabye Nursery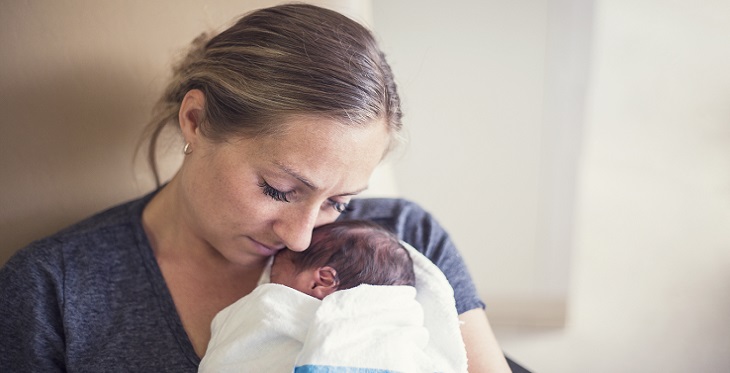 Hushabye Nursery will provide compassionate, non-stigmatizing care to at-risk mom's and babies during their stay and address their psychosocial needs after discharge.
Tara Sundem, RN, NNP-BC, MS, used to think the best place for babies going through withdrawal was not with their parents. Sundem admits that she, like many of her colleagues, used to judge parents when newborns in her neonatal ICU were going through withdrawal.
Sundem now believes she was wrong after studying Opiate Use Disorder (OUD) and says the best place for these newborns almost always is with their parents, even if those parents are not yet drug free. We should be able to 'think out of the box' to ensure the biological parents are able to 'parent'. As long as it is safe, babies should be with their parents. She learned that the entire family needs to be involved to improve outcomes.
So Sundem and Kelly Woody, RN, NNP-BC, also a neonatal nurse practitioner, started the nonprofit Hushabye Nursery in Gilbert, Ariz. The nursery is a recovery center for infants with neonatal abstinence syndrome. The infants' stay lasts until they no longer need specialized care. Hushabye Nursery's holistic healing approach encourages parents to stay with their babies — each room has a bed, crib and rocking chair.
Through hard work and securing donations, a NAS center for excellence dedicated to their mission will open October 2020. The new facility will have 12 inpatient private rooms. On the outpatient side, the facility will have a counseling area and outpatient programming such as prenatal and parenting classes. The new clinic will require a staff of 25 to 30, including nurses, patient care associates, social worker, educator, and volunteers.  
Neonatal abstinence syndrome cases climb
The journey started when Sundem was working in a hospital NICU and noticed growing numbers of babies in withdrawal. The opioid epidemic was affecting the most vulnerable at an alarming rate.
Centers for Disease Control reports that nearly 450,000 people have died from an opioid overdose between 1999 and 2018. Prenatal maternal opioid use, whether related to pain management or OUD, has increased considerably in recent years. This increase has contributed to a significant rise in the rate of Neonatal Abstinence Syndrome (NAS), a collection of symptoms in newborns exposed to any of a variety of substances in utero, including opioids.
Babies born with NAS, require a complex and painful detoxification process in the days following birth. Nationwide, neonatal abstinence syndrome diagnoses have increased 235% since 2008, and these newborns spend an average of 19 days in the NICU.
When Tara read the data, it changed her thinking from 'We have to save the babies,' to 'We have to save the families."
Knowledge and compassion
The nursery offers prenatal and postpartum programs and will offer more services once the clinic opens.Hushabye Nursery staff go to the methadone clinics, the medication-assisted treatment clinics, and offer prenatal and postpartum support groups.
Tara and other staff connect families with resources that might help them, including housing. The aim is to get families into treatment and pave the way for families to turn around their lives, so they can safely care for their newborns.
The clinic will provide an alternative to the NICU, so babies showing signs of withdrawal can be transferred to Hushabye's dark, quiet environment. Nurses trained in caring for babies with neonatal abstinence syndrome will care for the newborns one on one.
Hushabye isn't a treatment facility but the organization partners with facilities that can get the new moms and dads in right away. The goal, according to Sundem, is to have parents stay at Hushabye 24-7 to help care for their newborns. Sundem believes moms are the best medicine.
The goal is for parents to learn to trust, engage with staff, and continue to come back. Hushabye Nursery will be a safe place where parents are not going to be judged, and where they can get their therapy.
The approach is for staff to embrace substance-exposed babies and their caregivers with compassionate, evidence-based care. According to Hushabye Nursery's website, this type of care can change the course of families' lives, sparing newborns from following similarly troubled paths.
Change in the delivery format
Due to COVID-19, like many other organizations, Hushabye Nursery had to pivot to start delivering services/programs virtually. COVID has been a little bit of a silver lining for them, their HOPPE (Hushabye Opioid Pregnancy Preparation & Empowerment) groups/education are a perfect example.
To say their virtual platform has increased attendance is an understatement; Hushabye Nursery is currently providing virtual classes 6 days a week. Their average attendance is 10 mothers in each group, and they've had over 250 participants on average a month.  
"I am a proud participant of Hushabye HOPPE meetings. I am able to attend a group on any given day of the week thanks to virtual meetings. Before it was difficult for me to make it to even one meeting a week because I live all the way out west in Buckeye Arizona and the closest meeting was 30 miles away. Virtual meetings have allowed me to connect with Hushabye on a daily basis, I am constantly learning something new. I know I do not only speak for myself when I say how awesome it is to be able to have a support system of women that I otherwise wouldn't have been able to unofficially meet if it weren't for these virtual meetings that we are all able to attend. Being able to do virtual meetings is definitely something that makes a huge difference regardless of the crazy schedules we all have. Thanks to virtual meetings it makes it that much easier for us to attend no matter where we are or what we are doing," states Larissa McGuire. 
Expansion of the virtual portion:
The virtual HOPPE support groups provide an alternative method of support for women who initially may not seek face to face contact. Virtual participation can provide those women with that sense of privacy as they can participate from the comfort of their own homes. 
Many of the HOPPE support group members have stated that the virtual support groups have helped reduce the sense of isolation brought on by COVID and social distancing.