SEARCH 2021 – Finding the Best Research in Telemedicine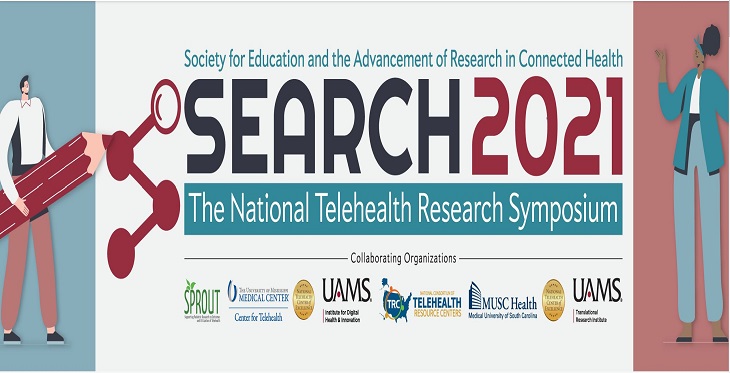 The Society for Advancing Research and Education in Connected Health (SEARCH) held its 7th annual meeting "The National Telehealth Research Symposium" November 8 – 10 of this year. Although the conference was virtual the science was 100% real and better than ever. Like any good conference, this one was enhanced by the collaborating organizations: SPROUT Supporting Pediatric Research on Outcomes and Utilization of Telehealth; MUSC Medical University of South Carolina National Telehealth Center of Excellence; UAMS IDHI University of Arkansas Institute for Digital Health & Innovation; NCTRC National Consortium of Telehealth Resource Centers; UMMC University of Mississippi Medical Center National Telehealth Center of Excellence; and UAMS TRI University of Arkansas for Medical Sciences Translational Research Institute. There were over 120 presenters at the meeting with a nice mix of prior attendees and those who were first-timers.
This year we expanded the Scientific Committee that really added to the diversity and breadth of topics we were able to draw. Members from SEARCH were Curtis Lowery, MD (President) - UAMS Institute for Digital Health & Innovation; Elizabeth Krupinski, PhD (Vice President & Secretary) – Emory University, Southwest Telehealth Resource Center; David Fletcher, MBA (Treasurer) – Geisinger Health. Saurabh Chandra, MD – University of Mississippi Medical Center, National Telehealth Center of Excellence; Hari Eswaran, PhD – UAMS Institute for Digital Health & Innovation, Rural Telehealth Evaluation Center, South Central Telehealth Resource Center; Dee Ford, MD – Medical University of South Carolina, National Telehealth Center of Excellence; Carolyn Greene, PhD – UAMS Psychiatric Research Institute; Ryan Kruis – Medical University of South Carolina, National Telehealth Center of Excellence; James Marcin, MD – University of California, Davis; Matt McCullough, PhD – Utah Telehealth Network, Northwest Regional Telehealth Resource Center David McSwain, MD – SPROUT, Medical University of South Carolina; Richard Summers, MD – University of Mississippi Medical Center, National Telehealth Center of Excellence; and Kathy Wibberly, PhD – University of Virginia, Mid-Atlantic Telehealth Resource Center made up the rest of the team.
It's impossible to summarize all the presentations but here are some of my favorites. The first day started out with a panel on "Research Infrastructure in Academic Medical Centers" with Dee Ford, PhD moderating and James Marcin, MD, Carolyn Greene, PhD and Sandra Burks, RN, BSN, CCRC presenting. It was interesting to hear about the variety that exists in resources for clinical research, especially in the context of telemedicine and what can help facilitate as well as create challenges for this type of work. I think a key message was no matter how many physical resources you have, what really counts is having the right people with the right skills in place who can bridge the multiple areas of expertise required to conduct telemedicine trials. Site coordinators are particularly valuable as is a uniform data management system such as RedCap.
The session "Promoting Informed Decision Making for Consent in Virtual Research" with Erin Rothwell, PhD nicely complemented this one as did "Adjusting Our Sails to Reach Our Destination: How Academic Medical Centers Adapted Remote and Virtual Approaches to Continue Clinical Research When In-Person Activities were Restricted" with Tammy Loucks, MPH, DrPH and Clare Tyson, MA, CCRA. Both of these gave a lot of practical examples and advice about how to break through some of the common challenges faced when trying to conduct telemedicine research – exacerbated by the necessity to go virtual with nearly every aspect once COVID-19 hit. How do you explain studies and recruit patients when they're not in the clinical? Is virtual consent legal and appropriate? How do you collect all sorts of basic data that used to be much easier with the patient in the room? All of this and much was addressed by these experienced researchers who had to think quickly and creatively to keep their research afloat during the pandemic.
There was a series of presentations on funding, resources and tools for telehealth research that were especially useful and quite informative for those just trying to figure out how to get going or where to look to for advice and help. Bill England, PhD, JD provided an extensive overview of "Telehealth Research and the Health Resources and Services Administration, and NIH" (I did the NIH part). Not only did he summarize the overall structure of HRSA and its telehealth initiatives, but he talked about some of the tools available to search for funding opportunities as well those programs already funded by HRSA. Ben Picillo, MPH and Bhavana Kapoor provided additional information about HRSA, its tools and some interesting data gathered in their talk on "Virtual Care and Telehealth at Health Centers Reported in the Uniform Data System". Yes, it did highlight data from the pandemic and how ironically it catapulted telehealth use to all new highs after so many years of steady but slow growth.
Reid Plimpton, MPH gave a great summary of "Telehealth Research Tools – Telehealth Locator". This is a mapping tool with different versions for grant writers/researchers, policymakers, providers and patient/consumers with the goal of highlighting gaps in service, identifying resources, and revealing disparities in access to care. Finally, was the session "Federal Agency Research Programs & Initiatives" with Wakina Scott, PhD the Acting Deputy Director for the Office for the Advancement of Telehealth (OAT) at HRSA; Ben Sommers, MD, PhD from the Office of Health Policy/ASPE US Department of Health and Human Services; Bob McNellis, MPH, PA of the Agency for Healthcare Research and Quality (AHRQ); and Antonio (Tony) Neri, MD, MPH, FACPM, Captain USPHS from the Centers for Disease Control and Prevention (CDC). This high-powered panel highlighted funding opportunities from sources many in the audience may not have heard about but should check out as they provide some interesting avenues that highlight different uses of telehealth to reach different populations.
On top of all this were the amazing research talks on topics ranging from innovative training methods in telehealth to addressing diversity, equity and inclusion issues that unfortunately were often exacerbated by the pandemic (or at least made more obvious). We need to continue our efforts to extend telemedicine beyond our current patient populations and think creatively about how we can partner with each other – whether in academia, government, industry, hospitals, private practice or local communities – to truly bring healthcare everywhere, to everyone, every time it's needed. Making broadband available, for example, is only half the solution if patients don't have smartphones that can connect to it or have to make choices about whether to use their internet or cell minutes to let their kids attend school or check in with their diabetes educator. These are the real choices people need to make and we as members of SEARCH and he telehealth community need to continue to conduct the research, training and education to make those choices far easier so health and well are the number one priority.
We look forward to hosting SEARCH 2022 in person next year with another great line up of speakers and the opportunity to really interact with each other, mingle, ask questions, and learn even more about the true benefits of telehealth. We will announce the location in the spring, but tentatively we are looking at Atlanta. The 2021 abstracts will be published soon in the Telemedicine and e-Health Journal. Finally, no meeting can take place without the hard-working support team that really makes it all happen: Heather Miller and Amanda Card from Direct Travel; Jason Rethemeyer and his team from The AV Company; Cara Lawlor at the Health Communication Research Center at the University of Missouri; Christina Coleman from MUSC; and Lizzie Casteel, Leah Dawson, Amy Moses, Hannah McCoy, Joe Schaffner and above all Wendy Ross from the UAMS South Central Telehealth Research Team.