Rural Telehealth Certificate Program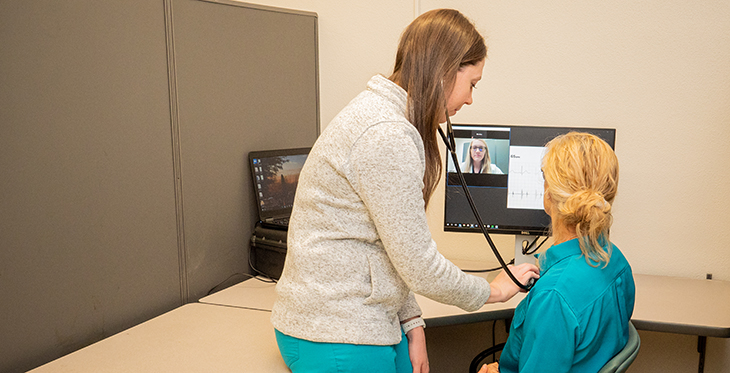 The University of Arizona is accepting applications for a Rural Telehealth Certificate Program.  Telehealth has a role in just about all healthcare delivery systems, and nurses are frequently involved as telepresenters or healthcare providers.  In response to the need for Advanced Practice Registered Nurses (APRNs) to experience and understand telehealth as a method of healthcare delivery, the Rural Telehealth Certificate Program (RTCP) has been approved and piloted at the UA College of Nursing. December 2019 will mark the graduation of the first cohort of the RTCP, which was composed of four Doctorate of Nursing Practice (DNP) students. Because of the sucess of the pilot program, the College of Nursing has realized the demand for telehealth education at all levels of nursing education.  Starting in January 2020, the RTCP will be offered to all nurses.
Entry to the RTCP requires that you have an undergraduate nursing degree (BSN) and active unrestricted licensure as a registered nurse (RN).  The RTCP accepts applications starting each August and applications are closed at the end of October of every year. Applicants are notified of the outcome of their submission no later than the last week of November. If accepted courses begin in January each year. The program courses are all available online, so you can live anywhere in the U.S. and still enroll in the RTCP. The application requirements are:
BSN, or higher, nursing degree 
Cumulative GPA of 3.0 or above
Unrestricted RN licensure within the U.S. 
Transcripts: Note that unofficial transcripts must be uploaded to GradApp as part of the application process.  Official transcripts will be required revised is offered admission to the program.
Computer literacy
There are three required online courses offering seven credits. Rural Health Systems (Nurs773) or Rural Community Health (Nurs774); Conceptual Foundations for Rural Health (Nurs638); and Technology for Expanding Healthcare Capacity (N736).  RTCP requires students to engage in 90 hours of Clinical Residency, which is tailored to individual learning needs and interests.  
The Clinical Residencies are on-site observations (20 hours) and educational or experiential activities (70 hours). Examples of the diversity and exposure that the 2019 students cohort experienced are observing telehealth providers in areas such as:  e-Consult services for teledermatology, electronic Intensive Care Unit (e-ICU), telebehavioral health, telepsychology to telepsychiatry, teleneurology for movement disorders, telemedicine specialists for Hepatitis-C and HIV/AIDS, telenutrition and telecardiology.
The DNP students who were part of the first cohort also engaged in telemedicine workshops and webinars.  Billing webinars provide up-to-date information on reimbursement for services from healthcare providers. Presentations on state and federal policies are offered to enable certificate recipients to understand the impact that telehealth services are having on national and international healthcare.  These are only a few examples of the many options that were available to choose from. 
Additional opportunities for students to obtain clinical hours will be offered in the upcoming cohorts. Curriculum has been developed for students to practice using remote stethoscopes for live streaming assessments, and store–and-forward electrocardiograms. This clinical opportunity will provide nurses with hands-on experience using telehealth equipment for remote cardiology assessments.  Otoscopes are also available for practicing. The RTCP is committed to maintaining state-of-the-art instruction and clinical experience. 
The RTCP is available for BSN, and higher, levels of nurses. The University of Arizona is now accepting applications for the Rural Telehealth Certificate Program (RTCP).  Applications for this program are available at https://www.nursing.arizona.edu/rural-telehealth-certificate-program