Rural, Inpatient Dialysis is the Telemedicine Trifecta: Improving Access, Improving Outcomes and Saving Millions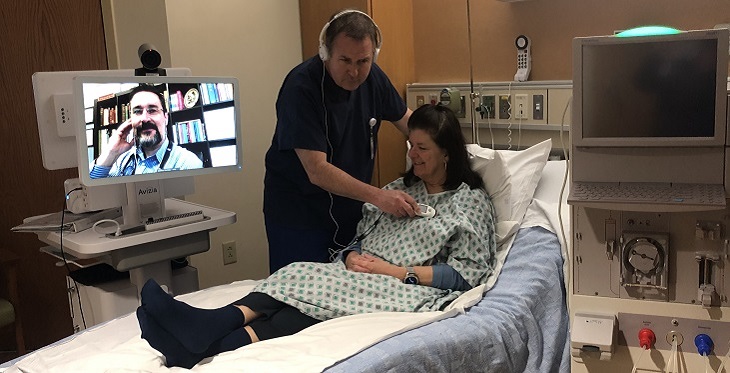 When Summit Healthcare in Show Low, AZ, lost its inpatient dialysis service and its two local nephrologists in 2016, it was no longer able to provide dialysis for patients who were hospitalized. Instead, Summit had to transport these patients to a hospital in Phoenix, Tucson or Flagstaff, where they could receive not only acute inpatient services but also inpatient dialysis. These transports, nearly always via air medical services, cost on average $42,000 per flight.
Word quickly got around the local dialysis community that if you were admitted at Summit for an inpatient stay (say for appendicitis or pneumonia), you would have to be transported to a metropolitan hospital so you could receive your needed dialysis as an inpatient. These patients started avoiding the Summit Emergency Department—and necessary healthcare—because they knew they would be flown out to a larger city.
Although Summit, an 89-bed hospital in rural northeastern Arizona, did not have an on-staff nephrologist or the ability to provide inpatient dialysis care, what it did have was experience with telemedicine in other clinical arenas (including teleneurology and tele-ICU). They capitalized on this successful history to address the dialysis gap in care. Summit partnered with the Flagstaff office of Arizona Kidney Disease & Hypertension Centers (AKDHC) and worked with them to develop an in-house telenephrology program, leveraging the equipment Summit already had in place for its existing telemedicine programs. This includes a video screen so the patient is virtually face to face with the provider, allowing the nephrologist to meet with the patient prior to, during and after the procedure. The remote nephrologist also can directly access and update the patient chart. An experienced dialysis nurse is on-site at Summit, performing the dialysis procedure and directly interacting with both the patient and the remote physician.
This innovative telemedicine approach has dramatically impacted both the number of patients that Summit can treat and the costs incurred to treat them. Since its inception in October 2017, Summit's telenephrology program has provided 426 consults, from which 263 dialysis treatments were completed, at a cost savings of approximately $2.76 million in patient transport costs. Kristi Iannucci, Summit's telehealth specialist, notes that insurance often doesn't cover the entire cost of an air transport, so patients can be stuck with a huge bill if they haven't purchased flight insurance. Now, Show Low dialysis patients who are admitted to the hospital benefit not only from being able to stay in their local community (and being comfortable knowing they can be admitted without being transferred), but also by avoiding the costs of the transport.
Another benefit to dialysis patients: Because patients don't have to be transferred to another city, their families can be present for treatment. Fredda Kermes, Summit's telemedicine director, cites a recent case where a critically ill patient received tele-ICU, teleneurology and telenephrology care at the same time, with three specialists in the ICU that she would not have been able to see if Summit didn't offer those tele-services. The patient's entire family was able to be with her to make crucial healthcare decisions together. They would not have had this experience if it were not for the telenephrology program.  
Based on this success, Summit plans to keep expanding its telemedicine services. "We continue to work with payers, legislators and other organizations to ensure that telehealth reimbursement improves," says Kristi, noting that Arizona currently doesn't require private insurers to cover telenephrology, and Arizona Medicaid also doesn't include it as a covered service. "We need reimbursement so that programs like this are sustainable. And programs like this are saving the system money, as opposed to costing the system money."
Fredda adds, "We're providing access to care in our rural community rather than having them go somewhere else for it."