How Telemedicine Services Can Help the College Student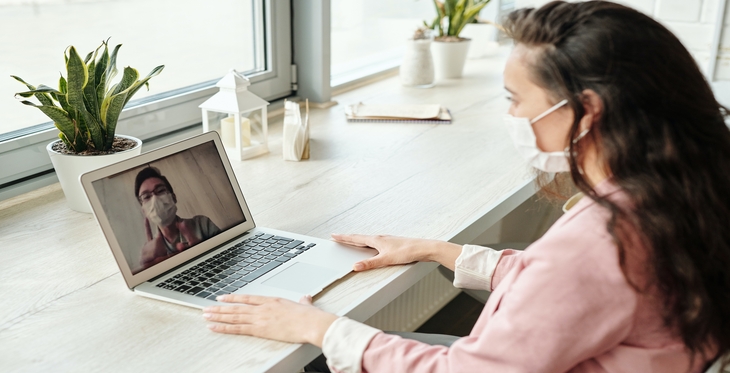 What is Telemedicine?
In short, telemedicine is the remote treatment or consultation provided by a medical professional via electronic means such as phone call, video conference or online chat. Such communication is carried out in real time when a patient needs medical advice that doesn't require physical presence of a patient at the doctor's office.
The goal of telehealth is to make treatment more convenient and more cost-efficient. What is more, it is a lifesaver for patients with chronic diseases like diabetes or high blood pressure who aren't in need of emergency treatment, but need regular medical advice on lifestyle regime, or medicine dosage.
How COVID-19 Changed the Role of Telemedicine
In 2019, only 11% of Americans used telemedicine on a regular basis, as they didn't see the real need for it, simply were not aware of it as an option, or their healthcare providres did not offer. However, with COVID-19 entering our lives, the number of patients using telehealth increased by 4 times — as now at least 46% of Americans use virtual medical services.
The remote interaction between patient and doctor is getting better and better, as countries and companies are investing large amounts of money in telemedicine: $84 million (Chinese health services provider Miaoshou Doctor), $4.5 million (Russian private health insurance platform BestDoctor), $13.6 million (American platform Gyant that uses artificial intelligence)
Helping with Mental Health Crisis
In these unprecedented times anxiety, depression and other mental health issues are critical as never before. Even though colleges and universities offer mental health services, they are often limited, ill-equipped, or worse — impossible to reach in times of COVID-19 lockdowns. For this reason, while concern for students' mental health is growing, so is the help of telehealth. Anxiety, depression, PTSD, ADHD and other conditions can be treated remotely helping thousands of students struggling with mental health crises.
Benefits of Telemedicine College Students May Enjoy
●     Remote Medical Advice Is Affordable
Needless to say, few students can afford quality health care when they're juggling work and studies, and are just trying to make the ends meet. Telehealth is way cheaper than offline consultation, making it a perfect solution for students.
●     You Can Receive Mental Health Advice Regularly
With telehealth students can enjoy regular sessions weekly. This is especially advantageous for those struggling with mental problems like anxiety, depression or OCD.  It is vital to help students with their mental well-being, and telehealth is making it easier.
●     Telehealth Is Flexible and Convenient
Any place and any time you can receive professional medical assistance with virtual treatment. You can keep in touch with a doctor from a tablet, phone, computer and get extensive consultation, receive prescriptions and even obtain advice on specialized care. No more waiting for hours in queues, as the telemedicine response is truly quick.
●     Improved Health Outcomes Thanks to Fast and Professional Advice
Unfortunately, lots of students turn to "Dr Google" quite often, as medical care is too expensive or too long to wait for. As a result, treatment based on Internet guesswork may result in bad health outcomes due to the wrong diagnosis and wrong medicine. We can avoid this with telehealth. Instead of entrusting your life to Google gurus, it's way better to contact a professional doctor remotely and receive detailed and sensible medical advice.
"A quick virtual care call with my doctor helped me identify COVID-19 and it prevented me from spreading it further in a timely manner," said Lucy Hansen, 23, a student at the University of Southern California. "This was back in April and the Internet was full of inaccurate and unverified information about COVID-19 and its symptoms. I had a slight fever and a mild skin rash that I didn't pay much attention to. Still, I decided to get on a video call with my doctor and she immediately suggested that I get tested for coronavirus after seeing a rash on my hands. I got tested and self-isolated right away. Needless to say, the test came out positive. If it wasn't for my doctor, I would probably have passed the disease to some of my friends and family."
●     Cloud Storage of Your Medical Data
Another benefit of telehealth is the fact that all your data is generally stored in an electronic profile. This way it won't get lost if you're moving houses when studying in another state. All your medical history will be stored in a patient records database online, so that you'll have access to it any time (as long as you stay with the same telemedicine provider).
Is Telehealth the Future of Campus Medical Care?
Remote medical care has already entered numerous  campuses, especially with on-site facilities being closed due to COVID-19. It's a new convenient way to reach an expert practitioner in a a fast and affordable manner. Virtual consultation is not very different from in person if a health problem doesn't require a doctor to physically examine a patient. Will telemedicine become the future of campus medical care? We believe it most certainly will, and with the growing capabilities of medical wearables and other tech, remote consultation will become a new solution as well.