How Technology Can Give Seniors More Independence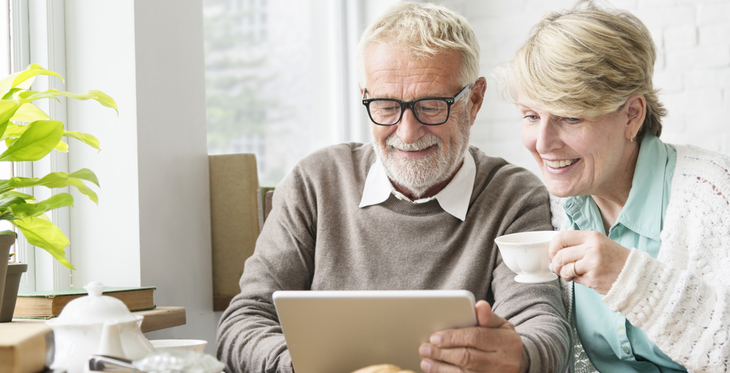 Seniors are becoming more tech savvy and digitally connected than ever before. Smartphone use has doubled in just the last four years with four in 10 seniors using this type of device. Six out of 10 seniors report using the internet, and about half of all seniors – around 24 million -- have internet access in their homes.
Today's technology does more than just make home life more convenient for seniors. It can also prolong their independence. From mobility assistive devices to ridesharing services to online social groups, here are some ways tech can keep seniors engaged, mobile and confident:
Mobility assistive devices, such as power wheelchairs and scooters, are available for seniors. These devices can be good options for seniors without impaired judgement who are able to move but lack strength. Electric wheelchairs, used more often indoors, can be steered with one hand using a joystick. Scooters, mainly used outdoors, have handle bars and a tiller for steering.
When purchasing electric wheelchairs or scooters, seek out local dealers. This can make replacements or repairs convenient. If the mobile assistive devices are prescribed by a physician, Medicare, Medicaid or private health insurance may help pay for it.
Ridesharing services are available for seniors who need transportation to a doctor appointment, bank, market, beauty salon and more. The most common rideshare services are Uber and Lyft, but note that users need a smartphone for these services.
There are also a few on-demand transportation services specifically designed for seniors using a touch-tone landline or flip phone. The cell phone is preferable so seniors can always be reached during the service. Users simply dial a specified number for pick-up. Some services have a safety feature giving minute-by-minute text updates to family, alerting them to when the senior requested a ride, when the driver arrived and when the senior arrived at the destination. To use the rideshare services, the senior must be able to get into the car without assistance. Rideshare accounts can be customized with notations on whether the rider needs help putting a walker or foldable wheelchair into the car. Note that electric wheelchairs or scooters cannot be accommodated.
Social networking, such as Facebook or Twitter, is used by about one-third of all seniors. Social media platforms allow seniors to keep up with family and friends. They can share photos or communicate directly through a free private messaging system. Online games or smartphone app games are also popular, with one in four seniors reporting they play these types of games. "Brain games" allow seniors to stimulate their mind, while other games allow them to invite friends or family members to play with them. Social networks and online games are a fun way for seniors to connect with other people and keep their minds sharp.
Adopting new technology can be challenging for seniors who have physical issues or lack of confidence in their ability to learn how to use new devices. But seniors can become engaged, mobile and confident if they try to make the internet part of their daily routine, and feel they are never too old to learn something new.