Covid-19's Telemedicine Sea Change: A Surge or a Tsunami? Imagining the Future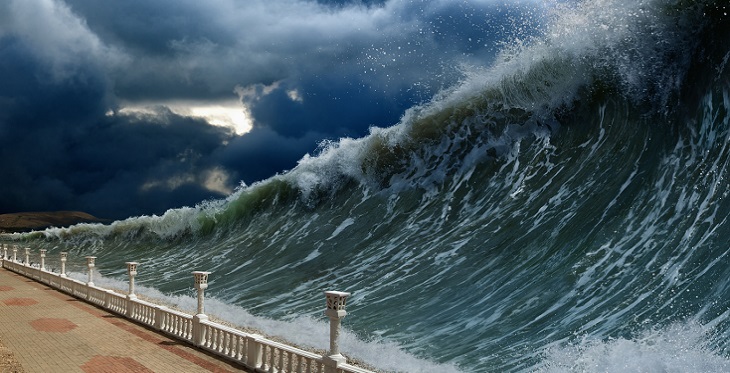 A storm surge and a tsunami are vastly different entities. A storm surge is an oceanic phenomenon resulting from the piling up of surface water from the sustained pressure of wind in a storm.  Damage, in human terms, is typically limited to structures along the coastline. A tsunami is a very different phenomenon.  Often caused by a natural disaster such as an underwater earthquake or volcanic eruption, the tsunami carries enormous energy in the form of a sheet of water spanning the ocean's surface down to its floor.  Its devastation can disrupt the fabric of society deep inland.
The astonishing recent surge in telemedicine and telehealth caseloads in ordinary medical practices this past year resulted in 20 to 30-fold increases, often in a matter of weeks.   Telemedicine cases went up from nil to 100 percent in some medical practices.  This burst of activity was triggered by President Trump's Executive Order for the US population to "Stay at Home." US federal agencies obliged by creating waivers to existing regulations that changed the landscape for medical practice in a flash. For decades, Medicare had dallied at creating billing codes for telemedicine services. Previously, every new CMS telemedicine billing code required passage into US statute, and these dribbled out at a snail's pace, with typically one or two new codes per Congressional session.  Using the CMS waiver process, Medicare added 85 new telemedicine billing codes, seemingly in the blink of an eye.  A decades-long Medicare prohibition on urban telemedicine evaporated.  Nursing homes and patients' homes became acceptable sites of origin for telemedicine cases and smartphones were, finally, an officially sanctioned input device for telemedicine cases.  A giant step towards interstate licensure of physicians was made by fiat.  Essentially, digital medicine became the new norm overnight.  These waivers, which contributed to the current surge in telemedicine cases, are apparently resonating in Medicaid-world as well within the third-party payor community.  Hopefully, their imprint on medical practices will survive their eventual termination.  Or will the current surge, as amazing as it is to a current generation of telemedicinewatchers, turn out to have the power to ultimately transform into the tsunami that will officially usher digital medicine in as a critical component of the Fourth Industrial Revolution?  Will digital medicine, currently going mainstream on telemedicine's back, become the crown jewel in the Covid-19 pandemic's legacy-package of societal advances, of the magnitude of other transformations left behind as legacies of earlier massive innovation accelerators such as wars, pandemics, and natural disasters?  
The steep slope of Covid-19-surge is driven by the pent-up energies of generations of telehealth innovators, agitating and pressing forward behind deadweight gates blocking progress in three interlocking arenas: the legal arena, the regulatory arena, and the medical service payment arena.   The sudden convergence and release of these pockets of energy accounted for the explosive growth in the telemedicine service industry this past Spring. No advance in technology or patient outcome study is as immediately potent as the elimination of obstructing laws, regulations, or artificial payment constraints in moving a medical service adoption along.
But what are the next steps forward?
What we are currently experiencing is a multi-step process of transformation, currently being imposed on the medical profession, but whose end point is not necessarily pre-ordained.  Currently, there is no single road map—the steps forward are situational.   We need the articulation of a grand vision of what digital medicine will look like next year and a decade from now.  Making waivers permanent and adding additional billing codes is simply a step in the right direction. The Covid-19-surge was welcome, but what we need is a tsunami.  The very fabric of healthcare delivery needs reinvention. That will not happen by simply codifying waivers into statutes by the federal and state governments as currently envisioned by some commentators.
We imagine that a generation from now, in hindsight, what is currently emerging in telemedicine and telehealth will appear to have been merely a small step in some future direction for healthcare delivery.  On the other hand, looking forward from our vantage point today, in January 2021, the convergent evolution and fusion of telehealth, artificial intelligence, automation, robotics, cloud computing, and additional yet to be invented technologies, will likely have been the tsunami that changed the entire landscape for healthcare delivery.  Even today, one thing seems apparent.  For patients, bricks-and-mortar facility-based healthcare delivery systems will likely be a thing of the past for most of the patient care.   From the perspective of technology innovators, the future for healthcare delivery looks very bright – like surfers on an adrenalin rush as they ride the crest of storm surge waves!