Arizona Telemedicine Program brings state-wide and national leaders together for 2023 Arizona Telehealth Policy Summit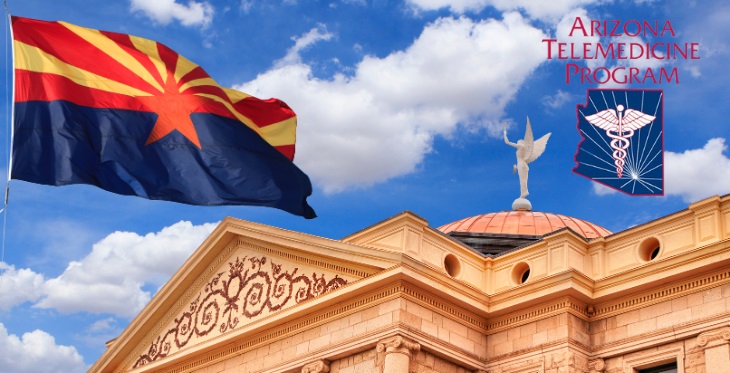 The 2023 Arizona Telehealth Policy Summit will host national and state telehealth experts to discuss the latest on Arizona and national telehealth policies and trends. This summit will benefit healthcare leaders, administrators, regulators, providers, and other stakeholders in learning more about virtual care. Summit speakers and in-person attendees will convene at the Virginia G. Piper auditorium on the Phoenix Bioscience Core campus. A virtual attendance option will also be available.

The summit program will begin with opening remarks from Professor Tara Sklar, summit host and associate director of Telehealth Law & Policy with the Arizona Telemedicine Program; Dr. Daniel Derksen, a nationally noted health-care policy and rural health expert and associate vice president in the University of Arizona office of the Senior Vice President for Health Sciences; and a blessing ceremony and land acknowledgement from Dr. Carlos Gonzales, assistant vice president of Indigenous Affairs with the University of Arizona Health Sciences.

This exciting live event will include stimulating in-depth discussions in three panels. The first panel, "State of Telehealth in Arizona," will be moderated by Dean Marc Miller with the University of Arizona James E. Rogers College of Law, and includes panelists: Arizona State Senate member Senator Thomas "T.J." Shope, and Arizona House of Representatives members Representative Alma Hernandez and Representative Patty Contreras. The next panel, "National Trends in Telehealth," will be moderated by Professor Tara Sklar and will feature health law scholars from across the country: Jennifer Huer, Yale Law School interim executive director of the Solomon Center for Health Law & Policy; David Orentlicher, Nevada Assemblyman and University of Nevada-Las Vegas law professor; and Sharona Hoffman, Case Western law professor. The final panel, "Telehealth Challenges & Opportunities at the Local Level," will be moderated by Janet Major, associate director for Innovation and Digital Health with the Arizona Telemedicine Program and includes panelists: Amanda Aguirre, president & CEO of the Regional Center for Border Health and former Arizona State Senator; Sandip Bhowmick, state broadband director at Arizona Commerce Authority; Kyle Sawyer, assistant director of public policy and strategic planning at AHCCCS.

Throughout the day there will be opportunities for meaningful networking with speakers and attendees during registration, breaks, and lunch.

There is no registration fee to attend this summit. Please note, however, that registration is required and in-person seating is limited. The summit will be held at the Virginia G. Piper Auditorium at 600 E Van Buren St, Phoenix, AZ on the Phoenix Bioscience Core campus. Virtual attendees will have opportunities to ask questions and make comments via summit moderators using the text communications features of the online seminar platform.

"Arizona is at the national forefront of telehealth with policies that provide for accessible healthcare services through the growing range of virtual care options," said Sklar, faculty director of the Health Law & Policy Program at the University of Arizona James E. Rogers College

We interviewed Sklar about the summit, and the importance of keeping up with changing policy trends around telemedicine.

Why is it important for those in healthcare to remain up to date on telehealth trends and policy?

Telehealth is at a critical point right now as states and the federal government navigate next steps in regulating virtual healthcare following the public health emergency. Telehealth adoption accelerated rapidly during the pandemic largely due to law and policy changes impacting reimbursement, licensure practices, geographic location, among others. Keeping up with these evolving changes in Arizona, our southwest region, and across the country is essential for healthcare leaders to stay on top of any new requirements and opportunities ahead to advance telehealth practices.

How does it feel to bring experts and policy makers together in-person after Covid-19?

This will be the first in-person Telehealth Policy Summit that I have helped organize with the wonderful Arizona Telemedicine Program team. I believe having an annual in-person event will help further discussions with state and federal leaders, which is harder to do with solely virtual events.

The Arizona Telemedicine Program offers virtual telehealth policy webinars and training year-round, and bringing everyone together for an annual summit is a fantastic opportunity to build on current connections and make new ones.

Your efforts at the Arizona Telemedicine Program always keep us informed on changing federal and state healthcare policies. If you had to pick one area that you think could have a big impact on telemedicine, what would that be?

One area! There are a few areas that could have a big impact on telehealth now and in the future.

It is false binary thinking to assume that every healthcare visit needs to be either virtual or in-person when in reality hybrid care with a balance of virtual and in-person visits is often preferable. Patients that lack local access to healthcare expertise and services that they need can be further disadvantaged when laws prevent a qualified healthcare provider located in a different state from the patient from delivering care via telehealth. Policies that enable qualified and trusted healthcare practitioners, who have capacity and availability, to safely, and timely, provide care to patients via telehealth, regardless of interstate boundaries, could have a huge and critically important positive impact on telemedicine's ability to contribute to improved health outcomes.

Relatedly, telehealth policy waivers, reimbursement for telehealth services and telehealth technologies enabled rapid implementation of numerous virtual care capabilities at scale during the public health emergency. That significantly transformed healthcare in multiple ways including remote delivery of care to patients irrespective of their, or their providers' locations, remote monitoring of vitals for a variety of chronic and/or complex conditions. Policies that enable telehealth could potentially transform what providers can do remotely to make healthcare accessible irrespective of where a patient is located. As federal and state telehealth policies, and efforts at the community level, evolve post-public health emergency it is essential to keep the focus on enabling high quality, cost-effective, and accessible healthcare.