Arizona Telemedicine Program and Southwest Telehealth Resource Center recognized as 'Trendsetter in Distance Learning'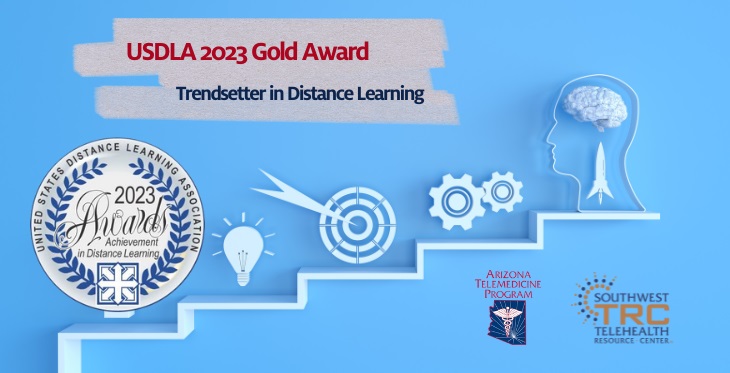 The Arizona Telemedicine Program and its Southwest Telehealth Resource Center were recognized by the United States Distance Learning Association as a "Trendsetter in Distance Learning" at its 2023 National Conference in Orlando, Florida on Wednesday, July 19, 2023. Janet Major, Arizona Telemedicine Program and Southwest Telehealth Resource Center's associate director for Innovation and Digital Health, received the award on behalf of the ATP and SWTRC.
The USDLA International Distance Learning Awards recognize instructors, programs, and professionals from across the globe who have demonstrated achievement in areas such as innovation and/or excellence in their uses of distance learning techniques and delivery technologies, extraordinary impact to student growth and engagement, exceptional promise or leadership in the field, pioneering initiatives, or high-quality research that advances the field. USDLA's award categories for 2023 included leadership, research, teaching and training, trendsetter, and rising star.
"The International Award program continues to provide prestigious recognition for educational influencers around the world" says Eric Jones, president of USDLA. "These award winners are truly leaders in the distance/digital learning industry and their work in support of pedagogy is unsurpassed."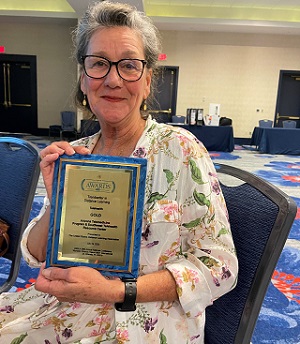 "Since 1996, the Arizona Telemedicine Program has provided telemedicine training, education, and evaluation throughout Arizona to enhance healthcare delivery to underserved populations throughout the state using telemedicine technologies, as well as promote the use of telecommunications for distance learning in healthcare," Major said. "The Southwest Telehealth Resource Center serves Arizona, Colorado, Nevada, New Mexico, and the Four Corners Region, and has built digital training and award-winning events and courses to prepare healthcare workers of all levels and specialties."

"We are committed to excellence in distance communications for healthcare and education and are honored to be recognized by the USDLA as a trendsetter for our work to improve access to healthcare and healthcare education through telehealth capabilities," said Michael Holcomb, Interim Director of the Arizona Telemedicine Program.

The Arizona Telemedicine Program's co-founders have both received USDLA awards for their outstanding leadership in distance learning.  The Arizona Telemedicine Program's founding director, the late Ronald S. Weinstein, MD, was inducted into the USDLA Hall of Fame in 2013. Robert "Bob" Burns, the co-chair of the Arizona Telemedicine Council, and a former member of the Arizona House of Representatives, of the Arizona State Senate, and of the Arizona Corporation Commission was honored with the USDLA Eagle Award in 2016.