Arizona community organizations forge a path to Digital Equity through the lessons of the pandemic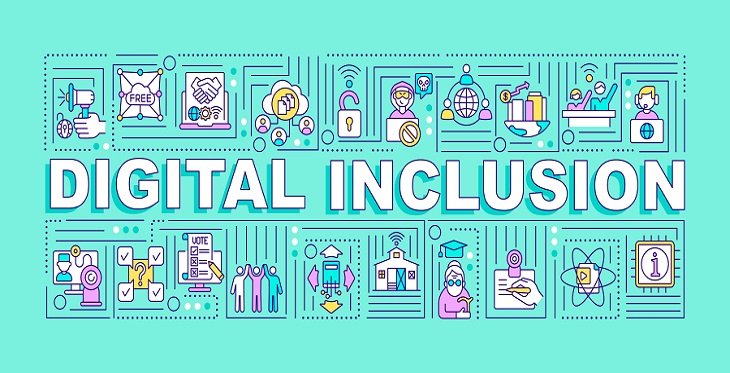 I entered the world of Digital Equity advocacy as an AmeriCorps member, serving at the United Way of Tucson and Southern Arizona starting in October, 2020.  I am embarrassed to say that I came to this work completely unaware that, according to a recent Brookings Institution report, 15–24% of Americans lack any sort of broadband connection to the Internet.  Thankfully, I soon discovered a large and super-engaged group of organizations, government agencies, individuals and policy aficionados were hard at work addressing the myriad issues that contribute to the Digital Exclusion of too many members of our society.
The National Digital Inclusion Alliance defines Digital Equity as "a condition in which all individuals and communities have the information technology capacity needed for full participation in our society, democracy and economy.  Digital Equity is necessary for civic and cultural participation, employment, lifelong learning, and access to essential services.  Digital Equity is integral to achieving economic, educational, racial and social equity."
The Covid 19 pandemic not only shined a light on inequities experienced by many of our citizens – it also showed us how tenacious and innovative we can be in the face of such challenges. As much of the workforce moved to homes and parents with school-aged children transitioned to home-based learning, community-based organizations, internet service providers, municipalities and faith-based groups, many of whom were already working to bridge the Digital Divide, sprang into action.  Arizonans demonstrated great ingenuity, compassion and resilience in the face of this unprecedented crisis.
•     School Connect, a Phoenix organization, had been working for a number of years to collect donated devices to refurbish and distribute to households.  School Connect leveraged their existing network of donors and refurbishes rapidly distribute computers and to those who needed them. 
•     The State Library system created the Connect Arizona website which included a statewide, real-time map of free Wi-Fi access locations.  The map is available on mobile devices and is still growing daily with input from the general public.  The Connect Arizona also operates a free help phone line to provide much needed tech support to anyone in need of it. 
•     Internet service providers quickly acknowledged that many Arizona families could not afford the high-speed internet service required for remote learning and increased the visibility of their affordable services to expand internet coverage across the state.
•     The City of Tucson utilized CARES Act funding to rapidly deploy a community wireless network to support households without the internet connectivity needed to work or learn remotely.
•     The Arizona Broadband Stakeholders Network (AZBSN) was formed to provide opportunities for interested individuals and organizations to collaborate on initiatives and strategies to accelerate deployment of fast, affordable and reliable Broadband Internet access in communities throughout Arizona.  Their purpose has evolved to include exploration of Digital Equity solution in Arizona and awareness of this issue has grown across the state.
•     The Baboquivari Unified School District, located on Tohono O'odham tribal land, placed AmeriCorps members to offer personalized technical support for students and parents during the transition to remote learning.
•     Chicanos por la Causa partnered with AZStrut, an organization that collects and refurbishes donated computer equipment. By December of 2020, Help Our Kids Connect! had donated approximately 800 computers to families in the Phoenix area.
In May, the FCC launched the Emergency Broadband Benefit (EBB) Program to provide discount broadband internet service to eligible households across the country. I was fortunate enough to be involved in the outreach effort for this program as part of an AZBSN subcommittee.  We developed flyers in Spanish and English, social media posts and toolkits for distribution across the state. Relying on committee member networks we were able to circulate more than 900 press releases. Currently, Arizona ranks in the top 10 states in the country for the number of eligibility applications to the FCC.  The EBB program is a temporary emergency program but we hope that the volume of applications will indicate the great need for a more permanent solution.  While we are making strides to bridge the Digital Divide as a nation we need to empower more households to fully participate in our society, democracy and economy.