Telemedicine Distance Learning Programs Address Health Care Professions Shortages
Rural health care providers no longer need to leave their communities and patients to obtain the continuing education credits they need to stay current. The Arizona Telemedicine Program Network provides thousands of hours of interactive video continuing education programming. In addition, the educational programs of the University of Arizona Colleges of Nursing and Public Health offer for-credit courses over the network to busy health care professionals and students at selected locations throughout Arizona. Thus the Arizona Telemedicine Program contributes to the statewide effort to increase the number of health care providers available to Arizonans.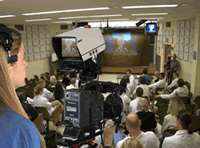 Surgery Grand Rounds are broadcasted from the University of Arizona to health
care professionals throughout Arizona.

Busy Tuba City physicians and other health-care professionals participate interactively in Surgery Grand Rounds during their lunch hour.