Arizona Telemedicine Program Receives $1.13M Grant to Start Regional Center
Program Receives Federal Funds for
Southwest Regional Telehealth Resource Center
Contact:
Al Bravo, (602) 827-2022 (Phoenix)
Jean Spinelli, (520) 626-7301 (Tucson)
Sept. 11, 2009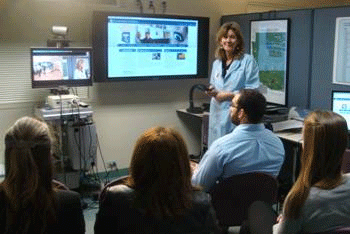 TUCSON, Ariz. – The Arizona Telemedicine Program (ATP) at The University of Arizona College of Medicine has received a $1.13 million federal grant to create the Southwest Regional Telehealth Resource Center, part of a nationwide effort to support the transition to electronic health records and implementation of telehealth services.
The Southwest Regional Telehealth Resource Center, covering Arizona, Colorado, Nevada, New Mexico and Utah, will be an integral part of a national network of seven regional resource centers and one national resource center, the Center for Telehealth and E-Health Law in Washington, D.C. The funds were granted by the Office for the Advancement of Telehealth, part of the Health Resources and Services Administration, an agency of the U.S. Department of Health and Human Services (HHS).
The Tucson-based Southwest Telehealth Center will provide many resources, including assistance with Electronic Health Record (EHR) system selection, implementation and management and "help desk" technical support for physicians and others in its region. Users include independent health-care organizations and practicing physicians who are, or plan to be, telehealth service providers or users. The center also will support clinical applications needs assessments, facility design, assistance with legal, regulatory and reimbursement issues, business plan development and grant writing.
The ATP has served as a resource center for its 55-member organization for more than a decade. Now, the Southwest Telehealth Center will leverage ATP's resources, expand services and offer them to many more health-care organizations and physician practitioners in the Southwest. The ATP is one of only two organizations in the United States with American Telemedicine Association-certified training programs.
More than 800 trainees, including health-care professionals from other states and nations, have participated in ATP's telemedicine training programs. The ATP's "Help Desk" responded to more than 1,000 requests for services last year alone, and many requests were on an urgent basis. ATP technical personnel have high levels of competence and broad experience in medical facility design and EHR product selection, training and management. The ATP has received 10 national awards for its innovations.
"Timing for the awarding of the Southwest Telehealth Center grant by the U.S. Department of Health and Human Services is excellent for Arizona," said Ronald S. Weinstein, MD, founding director of the Arizona Telemedicine Program. "The federal government has made educating physicians about electronic health records and encouraging them to embrace the technology a high national priority."
U.S. Health and Human Services Secretary Kathleen Sebelius also has made an additional $598 million in grants available to establish approximately 70 regional centers to provide clinicians with hands-on technical assistance selecting electronic health-record systems.
"The Southwest Telehealth Center is relevant since providing resources to physicians for implementation of an EHR in their offices is now part of the Arizona Telemedicine Program's mission and the Southwest Telehealth Center is an HHS-sponsored, federally designated entity," Dr. Weinstein said. "The Southwest Telehealth Center not only helps define a footprint for the Southwest region with respect to such training centers but could increase Arizona's competitiveness for these new regional center grants. Once again, Arizona has a head start with respect to addressing national health-care priorities."
The Arizona Telemedicine Program has had other successes in creating multi-state health-care industry initiatives in the Southwest. In 2004, ATP received U.S. Department of Defense funding for a Four Corners Telehealth Consortium (FCTC) organizational meeting in Tucson. The Department of Defense had a special interest in jurisdictional issues in interstate health care and Dr. Weinstein identified the Four Corners area as one with special potential to address such issues. The consortium, with Dr. Weinstein as founding director, has succeeded in joining the states into a unique regional telehealth "test bed" for multi-state health-care initiatives.
Arizona State Senate President Bob Burns, co-founder of the Arizona Telemedicine Program and chairman of the Arizona Telemedicine Council, an oversight organization for telemedicine in Arizona, has had a special interest in jurisdictional issues in telehealth and has attended a number of FCTC meetings. Federal funding also supported a FCTC meeting on the uses of telehealth for treating veterans with post traumatic stress disorder.
As an outgrowth of new FCTC relationships, Arizona and New Mexico also collaborated in a successful Federal Communications Commission proposal that resulted in a $15.2 million allocation to upgrade telehealth telecommunications network infrastructure in the two states, designed to link 500 sites and to create one of the largest regional telehealth networks in the country.
"Arizona has the edge on many other states when it comes to being competitive for health information technology federal funding," Dr. Weinstein said. "Developing and sustaining top-notch innovative programs and generating competitive federal grant fundable programs often go hand-in-hand. Senator Burns regards our successful federal grants as a good return-on-investment for Arizona's support of telemedicine."
# # #