Arizona Telemedicine Training Program Accredited by American Telemedicine Association
Pioneering program in telemedicine training is one of only two in the United States to be accredited by the ATA
June 15, 2009
Contact: Jean Spinelli, (520) 626-7301
The Arizona Telemedicine Program's Training Program - a leader in telemedicine and telehealth training - is one of the first training programs in the United States to be accredited by the American Telemedicine Association (ATA). The ATA, the largest telemedicine organization in the world, established its first-of-a-kind certification program earlier this year.
The ATA announced the names of the first two programs to complete their certification process at the ATA's annual meeting in Las Vegas in April. The Arizona Telemedicine Program (ATP) and the University of California-Davis Telehealth Program have operated telemedicine training centers for more than a decade. These pioneering programs are internationally recognized leaders in telemedicine and e-health training. The ATA established its accreditation program to ensure that telemedicine, telehealth and e-health training programs - in the United States and other countries - meet high standards of quality in terms of content, methods and resources, and also to provide formal recognition of training programs that meet such standards.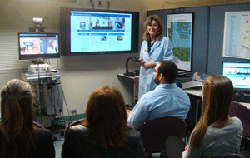 Janet Major, technical coordinator in the Arizona Telemedicine Program's Warren Street Clinic (ATP's videoconferencing facility in Tucson), presents telemedicine trainees with tips on how to do an ear examination using telemedicine imaging equipment.
"The Arizona Telemedicine Program's Training Program helps to improve health care in Arizona's rural and urban communities by preparing healthcare professionals to establish and operate telemedicine programs. Its training programs also bring healthcare workers up-to-date on the latest advances in telehealth and e-health, including the uses of electronic medical records for telemedicine applications," says Ronald S. Weinstein, MD, ATP founding director. "Interest in telemedicine is mushrooming worldwide and Arizona is a leader in the field. Accreditation by the ATA is important recognition of the high quality of the ATP's training programs. Their recognition and co-branding of our training programs will help us market our training programs throughout the United States and internationally."
Dr. Weinstein added, "We anticipate that as we expand our ATP training for physicians, nurses, pharmacists and other healthcare workers into additional areas such as electronic health records, our training programs will grow dramatically over the next decade. Arizona is well-positioned to be a leader in the education of physicians about electronic health records and their implementation in doctors' offices."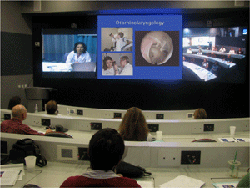 Appearing in the upper left video screen, Ana Maria Lopez, MD, MPH, FACP, medical director of the ATP, discusses digital eye examinations with ATP trainees in the T-Health amphitheater at the UA College of Medicine - Phoenix in partnership with ASU. The Phoenix attendees also are shown on the video monitors at the upper right. A PowerPoint presentation, controlled by Dr. Lopez in Tucson, is shown on the drop-down screen (center) in Phoenix.
Currently, the ATP offers monthly one- and two-day training courses in both Tucson and Phoenix. Trainers for the courses are located in either of the ATP's videoconferencing facilities - at the Arizona Health Sciences Center in Tucson or at the ATP's Institute for Advanced Telemedicine and Telehealth (T-Health Institute) at The University of Arizona College of Medicine - Phoenix in partnership with Arizona State University campus in Phoenix. The two campuses are linked by videoconferencing so that training sessions can be given simultaneously on both campuses. To date, 650 healthcare workers from more than 60 independent healthcare organizations have attended these training programs. "Bringing our T-Health Institute videoconferencing facility online this year expanded the ATP's capacity to train the Arizona healthcare workforce in the use of advanced electronic information technologies," says Dr. Weinstein.
The ATP has received seven national awards for innovations in distance education and training including Computerworld's 2008 top award for innovation in the education and academia category.
In recent years, word-of-mouth advertising has been attracting more trainees from other states, as well as a growing number of international participants. "The ATP brand has a high profile in the telemedicine world," says Dr. Weinstein. "We will begin to market our training programs nationally and internationally this year. We also plan to add educational programs on electronic health records in the near future."
Telemedicine allows the diagnosis and treatment of patients using medical information and images transmitted electronically over long distances. The ATP Training Program provides information, instruction and ongoing training in all aspects of running a telemedicine program, including clinical applications, telecommunications infrastructure development and operations, distance education, evaluation and business and administration.
"ATP is in the process of producing its training programs in Spanish and also plans to produce them in other languages, including Navajo," says Dr. Weinstein. "The training sessions are being digitally recorded so that telemedicine training can be offered over the Internet." Dr. Weinstein presented a beta version DVD of telemedicine training sessions recorded in Spanish at the ATA annual meeting in April. This was received enthusiastically by Spanish-speaking physicians attending the meeting.
For more information about ATP's one- and two-day training sessions, visit the Web site, telemedicine.arizona.edu/training, or call (602) 827-2116. (Tuition is charged for out-of-state attendees.)
---------------------------------------------
About the Arizona Telemedicine Program
The Arizona Telemedicine Program (ATP) is a membership-based Application Service Program telehealth consortium. Established in 1996 by Ronald S. Weinstein, MD, and Arizona State Senator Robert "Bob" Burns, the ATP is recognized as one of the premier telemedicine programs in the world for telemedicine clinical services, education and research. Telemedicine clinical services are provided over a growing network of sites across Arizona and in neighboring states (currently more than 150 sites). More than 800,000 people in Arizona have received telemedicine services over the ATP's private telecommunications network. A new division of the ATP, the Institute for Advanced Telemedicine and Telehealth (T-Health Institute), is headquartered in one of the former historic Phoenix Union High School buildings on the campus of The University of Arizona College of Medicine – Phoenix in partnership with Arizona State University. For more information about ATP and T-Health, visit the Web site, https://telemedicine.arizona.edu/, or call (602) 827-2116 for training information.
About the American Telemedicine Association
The American Telemedicine Association (ATA) is the largest telemedicine organization in the world. It is a leading resource and advocate for promoting access to medical care for consumers and health professionals via telecommunications technology. ATA seeks to bring together diverse groups from traditional medicine, academic medical centers, technology and telecommunications companies, e-health, medical societies, government and others to overcome barriers to the advancement of telemedicine through the professional, ethical and equitable improvement in healthcare delivery. For more information, visit the Web site, www.americantelemed.org
# # #