Southern Arizona Telehealth Alliance (SATA)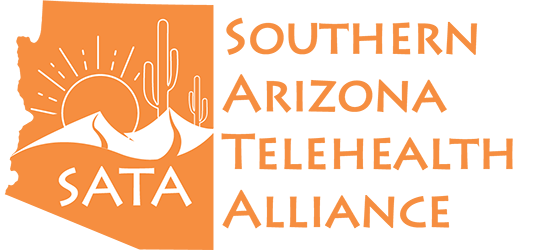 The Southern Arizona Telehealth Alliance (SATA) is an autonomous group facilitated by Southeast Arizona Area Health Education (SEAHEC) staff, with assistance from the Arizona Telemedicine Program. SATA was established in 2019 to offer southern Arizona organizations an opportunity to share telehealth experiences and information, learn about telehealth, and help each other and the ATP advance telehealth and avoid duplication of effort, similar to the Northern Arizona Telehealth Alliance.
SATA has 32 organizational members. It is open to any organization serving southern Arizona that has or is working on starting a telehealth program for its patients, clients, members, or students.
For more information or to request to join, contact Janet Major, ATP Associate Director for Innovation and Digital Health, jmajor@telemedicine.arizona.edu.
SATA Members
Academic
Arizona Telemedicine Program
Southwest Telehealth Resource Center

Behavioral Health Organizations
Circles of Peace
Hope Arizona
Pathways of Arizona
Pinal Hispanic Council
Southeastern Arizona Behavioral Health Services

Health Education Organizations
Sonoran Prevention Works
Southeast Arizona Area Health Education Center
Western Arizona Area Health Education Center

Healthcare Associations
National Alliance on Mental Illness - Southeastern Arizona
Southern Arizona Hospital Alliance
Skilled Nursing / Hospice
Life Care Center of Sierra Vista
Valor Hospice Care
Hospitals
Benson Hospital
Canyon Vista Medical Center
Cobre Valley Regional Medical Center
Copper Queen Community Hospital
Holy Cross Hospital
Mt. Graham Regional Medical Center
Northern Cochise Community Hospital
Tucson Medical Center

Integrated Health Care Systems
Banner University Medical Center
El Rio Health
Gila River Health Care
Southern Arizona Veterans Administration Health Care System

Integrated Health Clinics
Mariposa Community Health Center
Regional Center for Border Health, Inc.
Occupational Care / Urgent Care
Health From Home
High Desert Clinic and Urgent Care

Private Practice
Cochise Oncology
Other
Sunset Medical Billing