UA Researchers Using Telemedicine to Tackle Asthma in Tucson School Children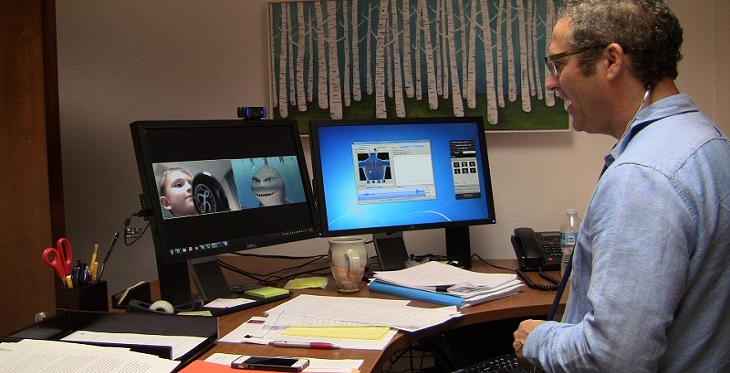 Each weekday morning at 20 Tucson elementary schools, more than 260 children with asthma report to their school nurse or health aid. Each child is given their own corticosteroid inhaler, inhales the medication, then returns to class.
The children are part of a multi-year, NIH-funded study of an asthma prevention program that is school-based for a number of reasons. The study was launched in the fall of 2014 in 20 schools in the Tucson Unified School District (TUSD).
Asthma is one of the most common chronic diseases of childhood, affecting about 10 percent of children in the U.S. It's also described as the most common cause of school absenteeism due to illness, according to the Centers for Disease Control and Prevention. The American Lung Association calculates the annual direct and indirect costs of childhood asthma – medical care plus lost productivity – to total more than $50 billion.
"Since schools are so good at setting routines for children – even better than we are as parents – we wanted to try this at schools. We want children to get into the habit of taking these medications," Lynn Gerald, PhD, associate director for clinical and health outcomes science at the (University of) Arizona Respiratory Center, and principal investigator on the study.
Dr. Gerald also is a professor in the UA's Mel and Enid Zuckerman College of Public Health, which is a partner in the study – called SAMS, for Supervised Asthma Medication in Schools – along with TUSD and the American Lung Association in Arizona.
In addition to monitoring children's adherence to their prescribed inhaled corticosteroids (ICS), the study provides each with a quick-relief albuterol inhaler, which they can get from the school office when they need it. And UA pediatricians see each child at least once, at the beginning of the school year, and again as needed.
The costs of the medications and doctors' care are covered by the grant, from the National Heart, Lung and Blood Institute. Clara Ehrman, with the Arizona Respiratory Center, is lead research coordinator and data collector. Public Health students, trained in the Lung Association's Open Airways program, teach the children more about what they can do to keep their asthma under control.
For doctors participating in the study, it used to mean giving up half a day or more to travel to schools and evaluate the kids in the study. But since August, the doctors' school visits are being conducted via the Arizona Telemedicine Program.
One of the UA doctors taking part in the study is Conrad Clemens, MD, professor of pediatrics and the College of Medicine's associate dean for graduate medical education.
He is known for making his telemedicine sessions even more fun for kids by presenting himself as an avatar shark, or other make-believe character.
"I must admit that I entered this experience with some trepidation," Dr. Clemens said, "wondering whether I would be able to adequately interact with the kids and, most importantly, hear their lungs' sounds through my electronic stethoscope connected via Bluetooth clearly enough to make the correct diagnosis."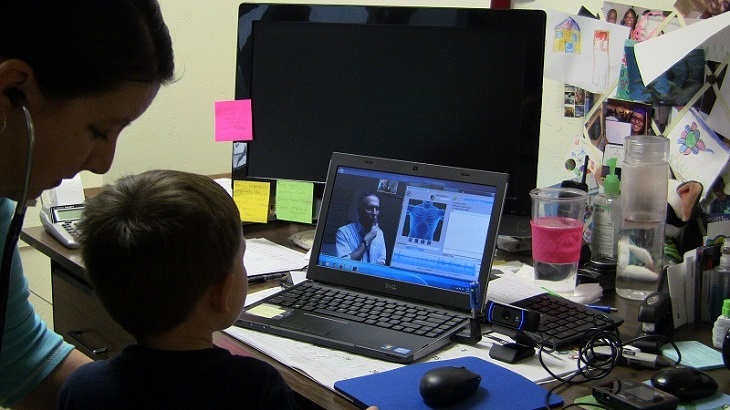 "I have been amazed. The quality of the technology combined with the children's comfort with 'virtual relationships' has led to wonderful, high-quality care that I can provide for schools throughout TUSD, without ever leaving my office. While telemedicine should be seen as simply one in a menu of tools for a physician – many times it is critical that doctors be in the same "space" as their patient – used appropriately, this tool has great potential for convenience, cost-savings as well as increasing access to care."
In the first year of Dr. Gerald's study, 10 schools were randomized to be part of the intervention, with the other 10 schools doing what they had been doing in terms of handling students' asthma medications. This year, all 20 schools are part of the intervention.
The study is a continuation of research that Dr. Gerald did at the University of Alabama in Birmingham, before coming to the UA in 2009.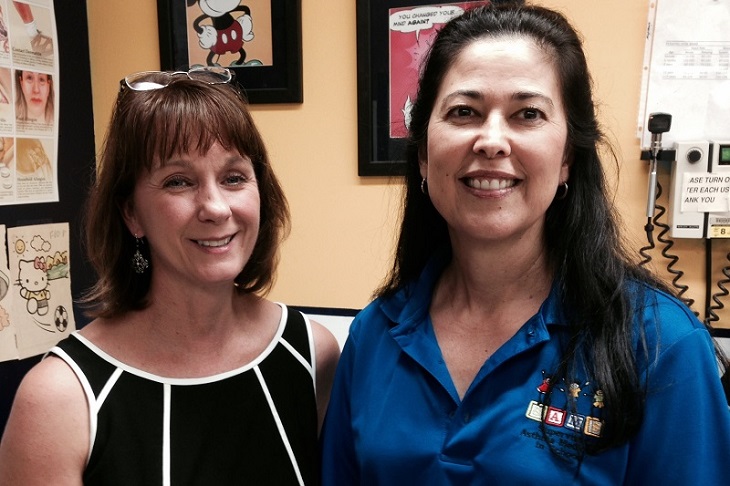 She says the SAMS approach is showing a benefit.
"Most children who have asthma need to take some kind of inhaled steroids daily," she said, "but adherence is less than 50 percent. So we were looking for ways to improve adherence, and one way was to supervise it at school every day.
"When we did the study in Alabama, we found it to be effective," she said. "Many ICS regimens call for using the inhaler twice a day, but studies have shown once a day is often just as effective, and it's easier for schools to implement a once-a-day regimen.
Parents also are counseled to make sure their child continues his or her inhaled steroids over the weekend, and other days when school is closed.
"The research has shown the kids will take their ICS meds daily as they should, and we know that if we can get that medication into the child five mornings a week at school, even if they don't take it at home, they tend to do better." Dr. Gerald said.
"Our interest now is how can we keep this program going? It's an excellent outreach to the schools, and many of these children are not connected to regular medical care. Telemedicine is definitely a much less expensive option and a much less time-consuming option for the physicians. So we really would like to keep this going."